Melbourne's Best Phone Repair
To help you find the best Phone Repair in Melbourne, we compiled our own list based on user reviews and ratings, which includes everything from checking reviews and ratings of phone repair companies in Melbourne.
So worry not if your phone needs a battery replacement, LCD replacement or repair, and any other gadget repairs.
Best Phone Repair Melbourne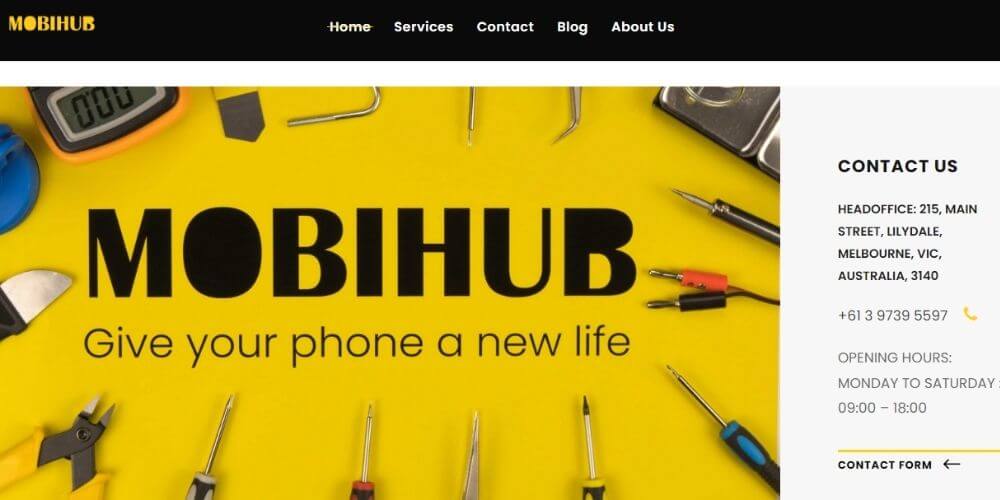 MOBI HUB is without a doubt one of Melbourne's top phone repair shops.
MOBI HUB is known for high-quality phone repair services at their store, in your home, or at your workplace. MOBIHUB delivers knowledgeable and ethical smart phone repair and troubleshooting services. They ensure that all of the repair parts are brand new and of the highest possible quality. How wonderful is it that they include a three-month guarantee with every repair?
Their employees and repair professionals are friendly and dedicated to giving you with the finest service possible.
They have phone repair Lilydale and phone repair Croydon stores that provide mobile repair services around Melbourne and ship their retail items all over the world. Mobile phone repairs, as well as phone maintenance and inspections, are available. MOBIHUB also sells high-quality phone accessories and offers dependable repairs for a wide range of electronic devices.
They have a dedicated team to help consumers with every stage of the repair process, whether it's scheduling a service, purchasing a gadget, or filing a warranty claim.
Their services include water damage phone repair, speaker repair or replacement, LCD repair or replacement, charging port repair, camera and battery repair or replacement, to name a few.
Website: https://mobihubrepairs.com/
Address: 215 Main St, Lilydale VIC 3140, Australia
Kiosk 2, 224-238 Mt Dandenong Road, Civic Square Shopping Centre, Croydon VIC 3136, Australia
Contact: +61 431 474 634 / +61426930034
Every repair at Fixmyphonenow in Melbourne is of the same high standard as the rest of their sites. Their team is one of Melbourne's top phone repair specialists, and they work with industry experts to ensure that their customers get the best service, parts, and care possible. Their experienced phone specialists are trusted to repair Google and Samsung phones, and they can mend almost any form of malfunctioning equipment. Fixmyphonenow offers access to genuine Apple parts, so you can always expect a high-quality repair. If you need an iPhone screen repair in under an hour or an instant answer to your technological difficulties, visit Fixmyphonenow.
The bulk of fixes should take no more than 30 to 60 minutes to perform. All repairs at Fixmyphonenow come with a 90-day warranty. Awesome!
Phone repair businesses may be found in Footscray, Brunswick, Essendon, Yarraville, and everywhere else you can imagine.
Some of their phone repair services include: Replacement of the front camera, proximity sensor, screen repair, screen replacement, battery replacement, loudspeaker replacement, screen protectors, and tempered glass protectors are all available.
Website: https://www.fixmyphonenow.com.au/
Contact: +61 498 862 850
MKC Iphone & Ipad Repairs
MKC iPhone & iPad Repairs is a Melbourne, Australia-based professional cell phone repair shop. Since 1999, the store has provided professional services to the local IT community. Their licensed experts have over 20 years of combined expertise and are well-equipped to fix a wide range of devices, including iPhones, iPads, Macbooks, Samsung phones, and more. At reasonable pricing, their trained specialists fix everything from cracked displays and defective buttons to liquid-damaged gadgets and broken charging ports. MKC iPhone & iPad Repairs has more than 120K pleased clients. In Melbourne, they have three handy locations.
Address: 235 Queen St, Melbourne VIC 3000
Website: https://mkcrepairs.com.au/
Contact: 1300 652 652
FixSpot Fixspot is a company that is passionate about all things electrical, especially phones. They work on a range of devices, including iPhones, and recognize the importance of these devices to their customers. Fixspot offers two sites in Melbourne and repairs over 400 iPhones each month. Both enterprises are at the city's heart, right in the heart of the CBD. They genuinely mean it when they claim they fix your phone on the spot, with repair times of 30 minutes or less for single part repairs. They can fix any type of damage you can think of, including cracked phone screens and water damage. Their repair services cover, among other things, phones, iPods, and iPads.
Website: fixspot.com.au
Address: 207/125 Swanston St, Melbourne VIC 3000, Australia
Contact: +61 1300 998 723
City Phones, based in Melbourne, Australia, is one of the most well-known cell phone repair shops in the city. The store is your one-stop shop for all of your cell phone repair needs. Micky, the company's proprietor, has over 10 years of expertise in the industry. Their staff of certified and experienced technicians understands how frustrating it can be to shatter or damage your iPhone screen, especially in today's fast-paced world when having a phone on hand at all times is crucial. They are well-versed in iPhone repair and iPhone screen repair and are professionals at it. If getting your iPhone mended is a time-sensitive affair, the business also provides same-day iPhone repair in Melbourne that takes 30 minutes to an hour. For your phone repair, their specialist will even come to you. City Phones also has a location on Elizabeth Street in Melbourne.
Address: 148 Elizabeth St, Melbourne VIC 3000
Website: https://www.cityphones.com.au/
Contact: 0426 504 955