Melbourne's Best Access Machine Hire
A comprehensive list of the most trustworthy firms that provide Reliable All Access Equipment Hire in Melbourne can be found here. If you're wanting to lease a range of access equipment in Australia, you should read this. It is used for access machine hire such as working at heights, scissor lifts, boom lifts, and other similar equipment.
01. Eastern Access Group Pty Ltd - Scissor Lift and Boom Hire
Eastern Access Group is an Access equipment hire company. We offer all types of access equipment such as vertical lifts, man lifts, scissor lifts and boom lifts for indoor and outdoor application. Being on the receiving end of the hire business for many years, we know how important it is to have the right equipment, at the right time and at a competitive price to get the job done quickly and safely. We have a strong belief in great customer service and committed to provide reliable well looked after machines to make every task run as smooth as possible. Based in Bayswater, we have a great facility to make pickups easy, or can arrange delivery to any site across Melbourne.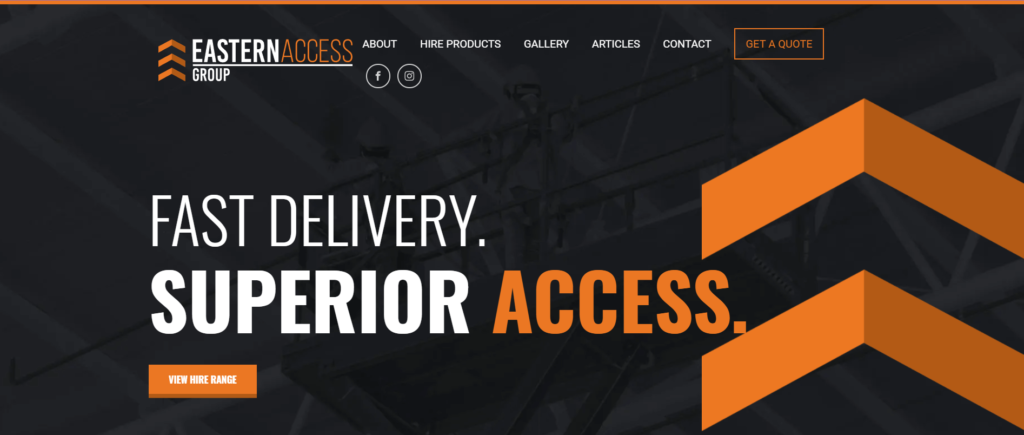 02. Access Equipment Hire
Access Hire is a remote project specialist branch of Access Group Australia, which boasts the largest privately owned fleet of specialized access equipment in the country. Access Hire is a division of Access Group Australia. Hire, sell, service, and transport of world-class brands in some of the world's most distant regions are all made possible by our network of partners. Working with industry leaders such as Genie, JLG, and Merlo, we are proud to have a robust fleet with an average age of only 3.2 years, ensuring ultimate dependability and quality for our customers. In addition, we are one of the largest re-sellers of new and used access control equipment.
Contact us:
Access Equipment Hire
18 Little Boundary Rd, Laverton North VIC 3026
61134000
www.accesshire.net
03. Auslift Crane & Access Hire
Auslift Equipment is a privately held firm with more than 30 years of experience in the lifting equipment and rigging sector. There is no job that is too big or too small for us. We provide a diverse selection of machinery from leading manufacturers. For all of your lift and carry needs, the machines are available for both rental and purchase, depending on your budget. Access Equipment, Boom Lifts, Scissor Lifts, Towable Cranes, Vertical Lifts, Cinema Lifts, Ladder Lifts, and Industrial Lifts are just a few of the machines available.
Contact us:
Auslift Crane & Access Hire
2/2/4 Souffi Pl, Dandenong South VIC 3175
397027977
www.auslift.com.au
All Star Access Hire is your one-stop shop for all of your access equipment needs. It is our goal to provide great customer service while maintaining a broad inventory of state-of-the-art equipment. We have the most up-to-date fleet of equipment in Victoria, and we are always adding new machines to our fleet of equipment.
Contact us:
All Star Access Hire
5/15 Drake Blvd, Altona VIC 3018
393973555
www.allstaraccesshire.com.au
Leader Access Hire began operations in 1996 as a family-owned and operated business built on the knowledge and experience of owner and director Bob Shephard, who has been in the electrical industry since 1986 and has owned and operated his own electrical business since 1986. Rod Shephard (son) joined Leader Access in June 2005 as the company's operations manager, bringing a wealth of knowledge and experience to the table for the organization. The company employs Bob's Daughter and Son-in-law, as well as other family members.
Contact us:
Leader Access Hire
17 Leader St, Somerton VIC 3062
93053388
www.leaderaccesshire.com.au