Melbourne's 10 Best Coffee Shops
Melbourne's love affair with coffee dates back to the influx of Italian and Greek immigrants after World War II and has since developed into an art form in its own right. A group of coffee entrepreneurs in the city scours the world's major coffee areas in quest of single-origin coffees to tantalize their affluent clients. Also included are cold-drip coffee techniques such as pour-over, siphon, cold-drip espressos, and flat whites.
Most tourists are aware that Australia is a top destination for a great cup of coffee. By Australian and worldwide standards, Melbourne, on the other hand, has a venerable coffee culture. The city's unrivaled enthusiasm for the technical aspects of producing and consuming coffee is beginning to manifest itself in new ways. 
Throughout the city, veteran roasters are emphasizing seasonality. At the same time, upstarts are pioneering new brewing methods or introducing South American and African ideas to Western customers for the first time.
Here are 10 of Melbourne's most ambitious purveyors where we believe you'll get the finest and most memorable coffee.
Seven Seeds Coffee Roasters
Seven Seeds is the latest initiative from Mark Dundon, the godfather of Melbourne's coffee industry, and is situated in a warehouse just north of downtown in an area frequented by students and creative young people. So far, it has been an enormous success. The Seven Seeds Espresso Blend has a fruity note, the Golden Gate Blend is caramelly, and the single origins change regularly. There are batch and single-serve filter choices available, as well as home-brewed lemonade and iced tea. Don't miss the delicious espresso-infused French toast with espresso crumb, chocolate soil, and berry coulis. 
A tiny micro-roaster in Carlton, Seven Seeds, which gets its name from the seven fruitful coffee seeds that the Sufi Baba Budan smuggled out of Yemen and into India during the 17th century, obtains seasonal coffee from across the globe and roasts it on site.
Mark Dundon and Bridget Amor, the original owners of ST ALi, sold their famous roastery in 2008 and opened a new one, Seven Seeds coffee roasters, in a warehouse just north of downtown. It's now as well-known as his previous venture. This location is usually crowded, thanks in part to its proximity to Melbourne University. Students and professionals from the neighboring flavor area, home to small creative companies, will always be present.
Location: 7 Montefiore St, Fairfield VIC 3078, 
Contact:  +61 3 9347 8664
Days and Timing: Mon-Fri 8am-3pm
Atomica Coffee is a specialty coffee roaster based in Seattle, Washington.
Atomica Coffee is the finest coffee in Melbourne, and you won't be able to argue with that statement since it was the first café in Melbourne to roast its coffee in-house. They specialize in boutique coffee roasting and retailing to satisfy the most discriminating palates – and smells – in the world. They don't cut corners when it comes to quality, and they always put the customer first. The coffee roasters pay respect to the past while still being up to date on the most current extraction methods being researched and developed. The key to their success is that each bean is separately roasted, which helps bring out each bean's unique flavor.
Location: 14/167 Beavers Rd, Northcote VIC 3070, Australia
Contact: +61 3 9486 3008
Days and Timing: Mon-Fri 8am-4pm
Taking inspiration from the Third Wave of coffee roasters, Melburnians Steve and Trevor Simmons established a small roasting facility in their backyard and started roasting in 2010. Industry Beans has already established itself as one of Melbourne's most globally recognized coffee cafes, with customers from all over the world. 
Industry Beans is a renowned coffee roastery, restaurant, and brew bar that is housed in an open plan, award-winning warehouse conversion in the heart of Fitzroy's edgy street art district. It provides high-quality seasonal coffee from major growing areas worldwide, such as Central America, Africa, and Asia. Recipes like rosewater compressed watermelon with lemon myrtle panna cotta, bee pollen curd, and wattleseed granola, created to highlight the roastery's beans, can be found on the seasonal brunch menu, which is almost too beautiful to consume.
Two espresso blends and single-origin espressos; three single origins for filter coffee; and one cold coffee made up of two single sources prepared separately and then blended in the glass before being served to the customer. Avocado smash and other favorites are on the breakfast menu.
Location: 3/62 Rose Street, Fitzroy VIC 3065
Contact: +61 3 9417 1034
Days and Timing: Weekdays 7am-4pm, Weekends 8am-4pm
The single-origin coffees served at Market Lane's roastery and café in Prahran Market are unique. Cakes, pastries, muesli, and other baked goods are offered with espresso and pour-over coffee. It sells single-origin coffee beans and brewing equipment, as well as free public cuppings (tastings) and brewing courses in pour-over, Aeropress, and plunger coffee.  The other outlets are in Queen Victoria Market, Carlton, and two locations in the city center.
Market Lane is a must-see for coffee connoisseurs. If you're in a hurry, a flat white prepared with the Seasonal Espresso mix will suffice. However, conversing with the personnel and identifying a particular origin that best fits your preferences is more enjoyable. The choices for pour-over filters are enlightening.
Market Lane Coffee hunts for the most unique and memorable coffee beans across the globe, roasting them in small batches at their Prahran Market roastery. They only offer coffee in season and are happy to tell you about the history of each cup. 
Location: Shop 13 Prahran Market, 163 Commercial Road, South Yarra VIC 3141
Conact: +61 3 9804 7434
Days and Timing: Mon & Wed 7am-4pm, Tue & Thu-Sat 7am-5pm, Sun 8am-5pm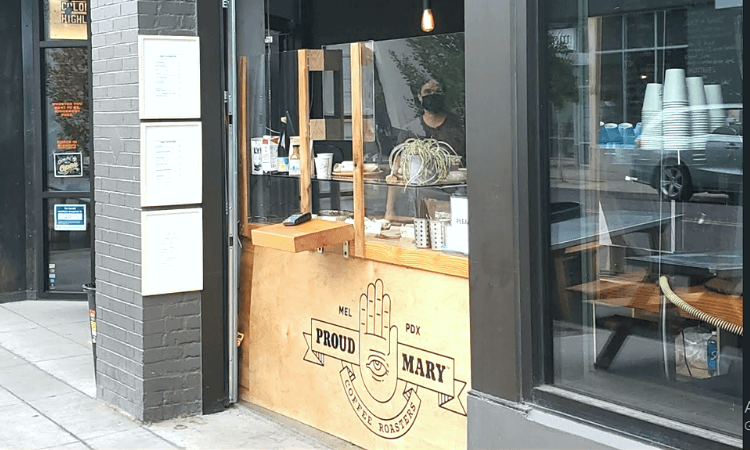 Collingwood's Proud Mary, a stalwart of Melbourne coffee culture, makes a great brew with coffee produced in their facility just down the road. There are a lot of varietals to pick from, and they're all worth trying if Proud Mary is part of your morning routine—their changing takeout "sanga menu" is undoubtedly one of the finest.
Proud Mary is a specialty coffee roaster, café, coffee instructor, and retailer that also takes pleasure in providing the beautiful things in life (that special Mary pride). Breakfast all day, substantial meals, fresh juices, and handmade pastries are just a few of the items that go well with their exceptional coffee. 
An offshoot of Proud Mary, Aunty Peg's, a two-story, state-of-the-art coffee cellar door that serves solely black coffee and an ale-like coffee brew and provides free cupping sessions, is adjacent to Proud Mary.
Location: 172 Oxford Street, Collingwood VIC 3066
Contact: +61 3 9417 5930
Days and Timing: Mon-Fri 7am-4pm, Sat-Sun 8am-4pm
ST ALi was instrumental in popularising locally roasted beans in Melbourne. It continues to be one of the city's most well-known caffeine providers (they even have their official apparel). This South Melbourne coffee shop is a must for coffee lovers. Coffees with milk are made using a unique mix, as are espresso-based black coffees. A hot and cold filter The "Coffee Adventure" offers six distinct coffees.
Some people may see the Melbourne coffee shops as snobbish, while St Ali considers themselves inquisitive. After smashing through the wall of specialty coffee in Melbourne in 2005, St Ali opened the floodgates for everyone to enjoy the drink. They have the highest standard in being early adopters of new ideas, discovering the hard-to-find products, and putting the greater goal of excellent product and procedure above trends and fads.
Location: 12-18 Yarra Place, South Melbourne VIC 3205
Contact: +61 3 9686 2990
Days and Timing: Mon-Sun 7am-6pm 
Padre Coffee gets green coffee from 30 estates across the globe, including its headquarters in the Brunswick East Project. Gander at the vast assortment of coffee equipment while sipping your custom blend, and sign up for a specialized barista school while you're at it. Pároco también has the Liga de café de mala fe in el centro de la ciudad and cafés en el puerto de South Melbourne Market y Queen Victoria Market.
Padre is without a doubt worthy of a place on Melbourne's most exemplary coffee list since it competes for the monopoly on the north and south sides of the city. Aside from producing great coffee (try their Lucky Boy blend), the crew is passionate about supporting its farmers and suppliers. Take a look at their Instagram to find out more.
Location: 438 Lygon St, Brunswick East VIC 3057, 
Contact: +61 3 9381 1881
Days and Timing: Monday to Saturday- 7 am-3 pm, and Sunday 8 am to 3 pm 
Dukes Coffee Roasters gets the finest seasonal ethically traded coffee beans from individual farms or small cooperatives across the globe for its tiny light wood-paneled café at Ross House in buzzy Flinders Lane. The café provides single-origin and blended beans for both espresso and filter coffee, and you may purchase beans and brewing equipment when you pick up your morning pour-over coffee.
This downtown eatery serves espresso drinks prepared with Dukes Roasting Company's freshly roasted beans, just a few miles away. Dukes Coffee Roasters specializes in the filter and American-style iced coffee and pastries from Mosaic, a local bakery, and does not take credit cards. 
Dukes has taken its coffee business to the next level since leaving its Chapel Street home for the big city. With tiled flooring and thick, stained wood everywhere, the café located just off Degraves harkens back to the look of a 1930s New York bar. This snug small café serves shot after shot of espresso to a long queue of customers eager to try the 'Dukes Signature Blend,' an excellent and balanced coffee that can be enjoyed black or with milk.
Location: 247 Flinders Lane, Melbourne VIC 3000
Contact: +61 3 9417 5578
Days and Timing: Mon-Fri 7am-4:30pm, Sat 9am-5pm
Wide Open Road is a real all-rounder when it comes to Brunswick's parks and recreation. In addition to producing some of Melbourne's finest coffee blends, the baristas also create beautiful tea, and the kitchen prepares fantastic café meals that transcend categorization. Espresso lovers may choose from various combinations, including the trademark Bathysphere Blend, another blend explicitly designed for milky beverages and rotating single-origin coffees. Additionally, Larsen & Thompson loose-leaf teas are offered, which need precise timing and temperature control throughout the brewing process.
Wide Open Road offers a stylish industrial look to its café, coffee lab, and roaster space that's situated within a renovated 1950s warehouse covered in paste-up graffiti art. Its Bathysphere house mix is intended to be consumed black.
Location: 274 Barkly St, Brunswick
Contact:  +61 3 9010 9298
Days and Timing: Monday to Friday- 7 am-3 pm, Saturday and Sunday 8 am to 3 pm 
Located in trendy Collingwood, Aunty Peg's, a subsidiary of the famous Proud Mary café, offers coffee from beer taps, which is iced coffee that a local beer brewer has produced in nearby Geelong. Even though it is filled with caffeine, it is frothy and pleasant. There's also espresso, which is prepared using beans that are roasted on-site. And the milk ban is done to highlight the intricacy of the coffee better; if you're interested in learning more, there will be plenty of opportunities to engage with the baristas.
In addition to being a Proud Coffee institution, Aunty Peg's offers some of the finest coffee in the world and indeed some of the best coffee in Melbourne. Aunty Pegs strives to provide a friendly, inclusive place where you may have your favorite cup of coffee prepared by a barista who will work with you one-on-one. There is always a line of people waiting outside, their oven is always on, and their roasters are constantly emitting seductive coffee smells.
Location: 200 Wellington Street, Collingwood VIC 3066
Contact: +61 3 9417 1333
Days and Timing: Mon-Sun 9 am-5 pm
Melbourne's coffee culture has progressed to the point that it is now considered an art form. A group of affluent coffee entrepreneurs travels across the globe in search of single-origin coffees. There are many espresso and flat white ways to choose from, making Melbourne a famous coffee destination. While in Melbourne, never miss the opportunity to cherish your taste and blend's moments of sipping coffee.