Melbourne Dog Beaches List
Sandown Street Beach (Aka Brighton Dog Beach), Brighton
We're going to make the call and designate this Melbourne's most renowned dog-friendly beach, even if it's a controversial statement. Why? Location. Sandown is conveniently positioned (just 11 kilometres from the CBD) and adjacent to a number of posh Brighton cafés and shops.
This one is often mentioned because the setting is simply too exquisite to leave out of any discussion about the finest dog beach. The completely gated area is usually swarming with all kinds of dogs, from large labs to little poodles, so if you want to expose your dog to some real socialisation, this is the place to go.
The beach is also enclosed and relatively shallow, making it suitable for smaller or less confident dogs. When you're playing, it's also a plus since you won't have to wade out too far to recover your ball.
Port Phillip's renowned dog beach is notable for its proximity to the city, but it also offers some excellent people watching. This is, without a doubt, the most social location on the list.
Grab a coffee at the dog-friendly West Beach Pavilion café and stroll across to the sandbars to let your dog run free. Take them for a stroll and a million pats down to St Kilda if they aren't exhausted yet.
If you visit West Beach in the fall and winter, you may extend your vacation to Middle Park Beach, which allows dogs off-leash at all times from April to October. Between November 1 and March 31, dogs are only allowed off-leash on Middle Park Beach between 7.30 p.m. and 10 a.m.
Partway along the beach, there is a fragile dune conservation area (follow the signs), which is completely off-limits to dogs.
The Bay Trail, which is bordered on one side by coastal scrub and on the other by the shore, is a long, lovely on-leash stroll. However, as soon as you get at Mentone Dog Beach, your dog is free to roam. The off-leash beach is open 24 hours a day between Charman and Plummer roads. Bins and taps may be found on the beach and outside the Mentone Life Saving Club.
Port Melbourne | Sandridge Beach
Sandridge Beach is the better of two alternatives in Port Melbourne; the length of water on the west side of the neighbourhood is one of Victoria's greatest dog beaches, and it's excellent for the whole family with grills and playgrounds right off the sand.
With plenty of free parking, the wonderful Maritime Cove playground, and BBQ spots, this Melbourne dog beach is easily accessible. It has a view of the Port Melbourne pier, which is where huge ships dock.
Altona Beach | Burn's Reserve
Swimming in ankle-deep water isn't much fun for humans, but dogs adore running about on the tidal flats. This off-leash beach near Burns Reserve features a shipwreck to investigate at low tide, as well as extensive lengths of sand for running. At the entrance, there are dumpsters and dog bags, as well as a shower and a drinking dish for your sandy, thirsty pet. Before you go, check the tide timings.
Burn's Reserve in Altona is one of Victoria's greatest dog beaches, especially if your pooch hasn't quite grasped the ocean's depths. At low tide, this beach transforms into a shallow aqua-heaven for four-legged buddies, and it's generally packed with people and dogs.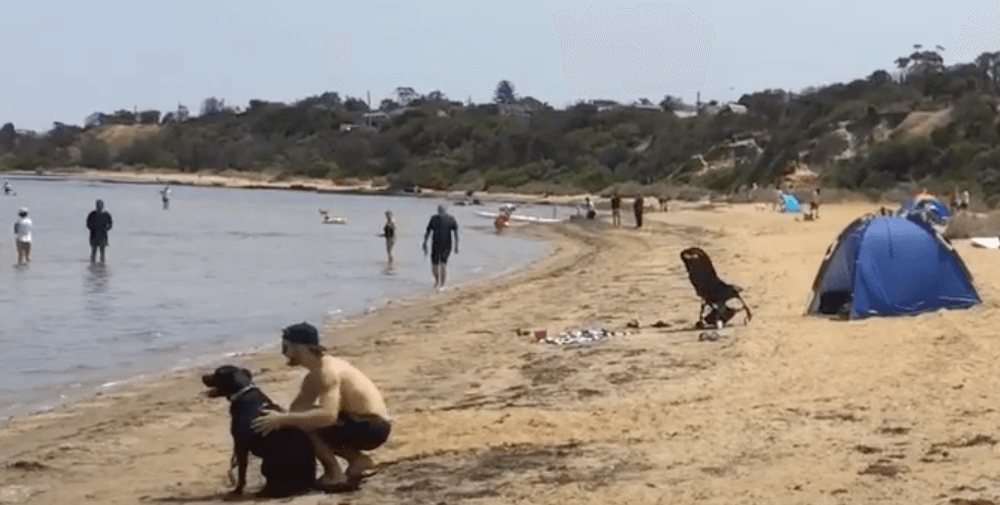 Beaumaris Beach | Rickett's Point
Apart from the dogs, Rickett's point is a pet's heaven; down at the yacht club end, it's usually a calmer event than the others. This gorgeous small length of beach, which wraps around the point and boasts pristine vistas and rockpools for your dog to enjoy, has been a strong candidate for the greatest dog beach in Victoria over the years and far into 2021.
Blairgowrie | Cameron's Bight
Cameron's Bight in Blairgowrie is a lovely area for dogs. On a sunny day, the water near the peninsula's southern end is clean and dazzling, making it a fantastic site for a short dip or a day on the beach with the dog.
Safety Beach | Tassell's Cove
Even dogs like going to a beach outside of town, and Tassell's Cove, located on the corner of Safety Beach, is without a doubt one of Victoria's top dog beaches. This dog-friendly beach, located at the corner of the protruding point that wraps around Mount Martha, is a coastal hotspot for all breeds of woofers.
Sandringham Beach | Edward Street
The Edward street dog beach is a good little run of dog-friendly beaches in the bayside suburb, heads up though this one gets busy. Also, set up with a cliff on the point it provides a little more seclusion and protection from the wind.
Elwood Beach is a prominent off-leash dog friendly beach. Dogs can be off-leash 24 hours a day from April 1 to October 31.
Dogs are only allowed on the northern end of the beach, near Point Ormond, from November 1 to March 31, and they can be off-leash from 5.30 to 9.30 a.m. From November to March, dogs are not permitted on the southern end of the beach at any time.
As a result, it's only fitting that a number of beaches around the city have been devoted to our four-legged companions. Between Lagoon Pier and Bay Street is Port Melbourne Beach. From the shoreline opposite Barak Road to The Bend, Sandridge Beach, Port Melbourne, West Beach St Kilda and more in this list above.
Dogs on Mornington beaches: At Royal Beach, dogs are allowed off-leash at all times. Dogs are forbidden on Mothers Beach at all hours during daylight saving time, but are permitted on a leash at all times throughout the rest of the year.
Dogs are forbidden at all hours on the beach between St Aubins Way boat launch and Coppins Jetty during daylight saving time, but are permitted on-leash at all times the rest of the year.