Melbourne's Best Roofing Contractors
Repairing your roof can be a difficult, time-consuming, and even dangerous task. Consider the drawbacks of replacing the shingles on your own roof before watching a few tutorial videos, purchasing the materials, and getting to work. No amount of research or studying can replace the knowledge gained through experience. You don't want to make an experiment out of your home, so get the roof replaced correctly the first time to avoid additional projects. You will only end up spending more money hiring someone else to clean up the mess you created by doing a poor job yourself. Don't take the risk and hire a reputable roofing company in Melbourne to fix your roof!
Protect your homes by hiring only the best!
Roofing Companies In Melbourne That You Should Hire
Total Roofing and Cladding 
Total Roofing & Cladding was founded by experienced Qualified Plumbers, Leigh McCombe & Lance Matthews with the plan of providing high-quality roofing & Architectural Cladding services to residential and commercial sites throughout Victoria. The team believes in providing high-quality work with honesty and professionalism on every job. We work closely with our clients and additional trades to make sure communication is clear and results are above expectations. Our friendly team are ready to talk about your next project. Total Roofing's team of expert roofers supplies high-quality solutions to all sized roofing jobs. We take on new build roofs as well as roof replacement jobs on existing buildings. Our services also include: Commercial Roofing, Commercial Cladding, Roof Replacement, Architectural Cladding, Colorbond Wall Cladding, Residential Roofing, Guttering and Fascia, Downpipes, Metal Re Cladding, Flashings, Rainheads, Colorbond Roofing, Colorbond Cladding, Metal Roofing, and Metal Facades. 
Address: 3/1470 Ferntree Gully Rd, Knoxfield VIC 3180
Contact: 0413 048 622
ELR Plumbing, Colorbond roofers, have quotes that are comprehensive and detailed and can cover everything from roofing, guttering, fascia and insulation. We provide a full service in new roof installation and re-roofing and we are licensed to give you expert advice and peace of mind. Whether we're providing advice on colours and profiles, on-site measuring or installing fascia and gutter to refresh your home's look, we'll give you professional service every time. Our helpful roofers don't see it just as a job site – it's your home! ELR plumbing also has access to a wide range of products through our network of local suppliers and we match this with over 15 years of business in the roofing industry, so you are getting value for money.
Address: High Street
Berwick 3806 Victoria
Contact: 1300 639 766
Website: https://elrplumbing.com.au/
We are roofing contractors in the very popular and durable Colorbond metal roofing. Colorbond metal roofing is s a popular choice throughout Melbourne as it is an elite roofing material. Colorbond roof restorations are one of our most popular services. With over 20 years experience in tiled roofing we are happy to offer quality and consistent tiled roofing to Melbourne residents. We only use quality roofing products that we have tested over time. At Brennan Roofing, we don't use sub-contractors, we are an owner-run and operated business, giving us full control of our quality, and we stand by our work, our quality is second to none, and our reviews show it. We provide one on one client liaison, our clients matter to us, we want to keep our top reputation. We recognize the significance of regulatory compliance and safety. We ensure that the risks of the roof and gutter installation, as well as operating at heights, are minimized to a safe level. 
Colorbond roof installation necessitates a significant lot of attention to detail and expertise. We are experts in both height safety and roof plumbing at Brennan. We have all of the essential equipment and training to keep our workers and your property safe while installing Colorbond roofs.
Address: Hillside Park, Rowville VIC 3178
Contact: 03 4050 7860
Website: https://www.brennanroofing.com.au/
Melbourne Quality Roofing
Melbourne Quality Roofing helps you in restoring your roof and enhance its longevity while minimizing any future repair requirements. The company's proven technology of Four Coat Color System helps restore your roof tiles while enhancing its look and longevity. With more than 25 years of experience in roofing services, they surely knows what your roofs need and how to deliver the best roofing solutions through articulate workmanship, using quality products, and efficient customer service management. When your roofs need the best technologies and efficient handling, call and hire Melbourne Quality Roofing without delay!!!
Address: 35 Heany Park Rd, Rowville VIC 3178
Contact: 0466 885133
Website: https://www.melbournequalityroofing.com.au/
We were Established in 1992 to provide a company run and owned by people with real world experience in all aspects of Roofing and Guttering. The emphasis has and always will be to provide the best possible product and services at all times with an understanding that future business comes from happy and satisfied customers. We are a family run roof repair and restoration business based in Hawthorn East. We take no nonsense professional approach too each job and offer honest quotes, fair pricing and fast repairs. We provide digital images with all issues we may encounter when inspecting your roofing job. We never charge for quotes or inspections and provide you with full detailed report of what is needed. We have over 40 years experience in Roof Repairs Melbourne, Roof Restoration & Guttering of all types across Metropolitan Melbourne and the Eastern Suburbs. We have spent decades building our strong reputation on delivering a quality roof repair and replacement service based in Hawthorn East. We always receive many referrals from our strong customer base and repeat clientele when they need local roofers and professional advice. All Seasons Roofing and Restorations expert team of roofing specialists guarantee that we will be able to repair any problems with your roof. The first time every time GUARANTEED with a 95% success rate
Address: 737 Burwood Road, Hawthorn, Hawthorn East VIC 3122
Contact:03 8862 5420
Website: https://www.allseasonsroofrepair.com.au/
Harley & Sons Roofing is an expert team of roof plumbers who can diagnose and solve your roofing problems in Melbourne. We know that sometimes getting your roof repaired is urgent, so speak to our team about how we can ensure your safety and stop water ingress with a repair and maintenance plan for your roof. Whether its damaged metal sheets, cracked tiles, rusted valleys or a botched job, Harley & Sons are the trades you can trust to get your roof right. Everybody needs a roof over their head and we know that nobody wants to worry about their rusty, old, leaking damaged gutters or roof! Take the worry away and leave it to the Harley's. Our team includes Roof Plumbers, Tile Specialists and more, making sure you get a complete solution. No matter the roofing job you entrust in us, you can relax knowing Harley & Sons will provide an A-class service on time – every time. Backed by our Product and Workmanship Guarantee. Stress no more, just let the Harley's do it.
Address: 29-31 Dingley Avenue Dandenong VIC 3175

Contact: 03 9738 2501
Website: http://harleyroofing.com.au/
With over 40 years experience as the #1 Commercial Roofing Company in Melbourne, ACR Roofing specialise in commercial roofing projects, including: metal roof, asbestos roof removal and replacement, commercial wall cladding replacement, and polycarbonate roofing. We manage the entire roof replacement project, provide you with the best roofing contractors and plumbers, and ensure your roofing job is completed to the highest standard possible. Our mission is to gain trust through our unwavering commitment to deliver your roof replacement project on time and within your budget and to the highest quality possible. We believe we are the market leaders in height safety and asbestos roof removal works. Through our commitment to constant innovation and improvement within our industry, you can rest assured your property is in good hands."
Address: 127 Chesterville Rd, Moorabbin VIC 3189
Contact: 03 9555 0955
Website: https://acrroofing.com.au/
BTK Roofing provide innovative roofing solutions for the Greater Melbourne area, including the Northern and Western Suburbs. We are a full services roofing contractor company, providing our residential roofing and commercial roofing customers with top quality service at highly competitive rates. Our expertise in residential roofing & commercial roofing systems has made us a top choice for homeowners, contractors, and property builders. We work closely with our clients to provide the latest innovatons in roofing with solutions to ensure each project is completed on time and on budget.
Address: Suite 4, Level 13/350 Collins St, Melbourne VIC 3000
Contact: 0413 094778
Website: https://btk.com.au/
Pitcher Perfect Roofing is a family owned roofing company that was established in Melbourne in 1998 to provide homeowners with roofing services that are carried out with the highest level of expertise and in accordance with Victorian building standards. I am a trained roofing professional in roof plumbing, roof tiling, slating and roof carpentry. I oversee and do most projects myself which ensures that projects are completed on time, using the best quality roofing materials and making sure that the job is done right the first time saving you money in the long run. This will help provide you and your family a safe home while increasing its market value . Looking for a reputable and professional roofing company with years of experience that provides high quality craftsmanship with integrity, trust, and loyalty? Contact the dedicated and passionate team of skilled roofers at Pitcher Perfect Roofing today.
Address: 21 Edgar St, Glen Iris VIC 3146
Contact: 0432 500007
Website: https://www.pitcherperfectroofing.com.au/
B Anderson Roofing Pty Ltd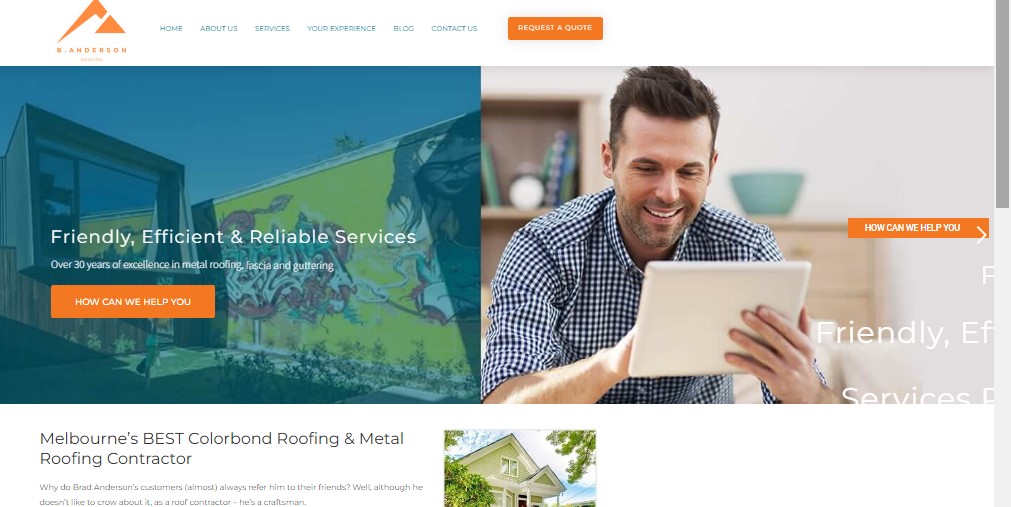 Why do Brad Anderson's customers (almost) always refer him to their friends? Well, although he doesn't like to crow about it, as a roof contractor – he's a craftsman. He works with his clients closely, creating the look they want for the price they need, in the time they have to get it done. So if you want to replace your metal roof and are thinking about Colorbond roofing or metal reroofing, we'd love to speak to you. o if you're looking for a roofing contractor who specialises in extensive metal roof repair or metal roof installation, and you're thinking about Colorbond metal roofing, let us turn your house into a home your neighbours will be envious of!
Address: PO Box 600, Essendon, Victoria 3040
Contact: 03 9399 2007
Website: https://bandersonroofing.com.au/
Protect Your Family And Choose Only The Best Roofers
You and your family will benefit from the serenity and peace of mind that comes with hiring a trustworthy local roofer. You'll be confident that your roof will last. You gain years of effective protection for your home, family, and all of your belongings. Your roof will be in the best possible condition now and for decades to come if you have annual inspections from the same roofer.