Queensland Best Home Builders
Queensland, also known as "the Sunshine State," is Australia's most popular vacation destination. Many Melburnians are moving to the sunshine of the Gold Coast, Queensland.
However, building a new home from the ground up in Queensland can be an exciting process, but choosing the right builder is critical. You're making a significant investment, and you need to know you're working with a trustworthy and reputable builder. It is very important to always do your homework in finding the best home builder that will make your dream home come to life.
To help you decide which home builders to trust, we created a list of Queensland best home builders that can definitely be your go to guide in choosing your home builder.
10 Best Home Builders in Queensland
Art of Homes create the perfect lifestyle for your family with a new home build on the Gold Coast, Logan, Jimboomba, Springfield, Tweed Coast, Northern NSW and surrounds.
They are composed of a team of Gold Coast Builders That provide the 'big builder' feel while adding a personal touch. This means you get all of the advantages of working with an experienced team – proven designs, high-quality finishes, and project efficiency – while still maintaining a close relationship with the builder.
Address: 3/178 Siganto Dr, Helensvale QLD 4212, Australia
Contact Number: +61 7 5529 4364
Website: https://artofhomes.com.au/
Burbank guarantees a smooth and stress-free journey, whether you're a first-time home buyer or a seasoned home builder. In addition to your own dedicated New Home Coordinator, you'll have direct access to your Site Supervisor – the person who is actually building your home – who will provide regular updates via phone and email.
Address: Unit 11/1/15 Lexington Rd, Underwood QLD 4119, Australia
Phone Number: +61 7 3440 7500
Website: https://www.burbank.com.au/queensland/
If you want the best service money can buy when designing, planning, and building your new custom home, look no further than the friendly team at Alphaline Homes.
They provide completely customizable design services and home designs. You can personalize them as much or as little as you want.
Address: 2/10 Torres Cres, North Lakes QLD 4509, Australia
Phone Number:+61 7 3184 3479
Website:https://alphalinehomes.com.au/
This National Award Winning Company has been dedicated to creating and building stunning liveable homes from Noosa to South Brisbane since opening their first Display Home at Mountain Creek in 1997.
McLachlan's believes that its success as the leading family-owned company is due to its valued customers and its motto, "Built around Lifestyle."
With a passion for providing excellent customer service, McLachlan's takes pride in tailoring each project to reflect their clients' unique lifestyle, taste, and budget. This local family owned Builder provides flexibility and high quality workmanship in line with a more personalized experience than their franchise competitors. McLachlan's encourages their customers to participate as much or as little as they want in all stages of the planning process.
Address: 18 Commercial Drive, Caboolture Q 4510.
Phone Number: +61 7 5498 9866
Website: https://mclachlanhomes.com
Watara Homes' commitment to quality underpins everything they do, from the initial consultation to the final handover. They keep their clients' needs and requirements in mind at all times while adhering to the architect's design and thought process. Their trades, consultants, and team members are carefully selected to ensure that each project is completed to the 'Watara Standard,' as well as with excellence and professionalism.
Address:  4/21 Central Ct, Hillcrest QLD 4118, Australia
Phone Number:+61 7 3800 4665
Website: https://watara.com.au/
JRZ Homes | Bundaberg Builder
Talk to JRZ Homes Bundaberg Builder about bringing your dream home to life, whether it's just a quick sketch on a piece of paper or fully thought out plans. They will work with your ideas to create a design that makes the best use of your space and budget.
They can provide you with all of the information you need to make an informed decision about building a custom home in a single short meeting with their experienced building consultants.
You will walk away with all of your questions answered, from selecting your land to council requirements, estate covenants, and how much it costs to build.
Address: 2 Lavella Street, Bargara QLD 4670, Australia
Phone Number +61 7 4152 9268
Website: jrzhomes.com.au
Neptune Homes believes that the best things happen at home. That means a home that has been thoughtfully designed with your family's needs in mind, both now and in the future.
They've been designing smart, stunning homes for clients all over Brisbane and the Gold Coast for over ten years. Their design team works within your budget to deliver excellence and an inspiring experience.
Address: 2/270 Lahrs Rd, Ormeau QLD 4208, Australia
Phone Number: +61 7 3180 3050
Website: https://neptunehomes.com.au/
OJ Pippin Homes takes pride in doing things a little differently. You'll notice the difference when you join the OJ Pippin family, from their transparent, flexible approach to custom builds with guaranteed prices.
They are confident that with over 100 plans to choose from and over 1000 houses built, they can deliver a quality result that you can't wait to come home to. They enjoy a challenge, so no block is too difficult or design too unique – if you can imagine it, they can make it.
Address: 6/205 Leitchs Rd, Brendale QLD 4500, Australia
Phone Number: +61 7 3889 7775
Website:https://www.ojpippin.com.au/
Homes by CMA understands that building a new home is one of the most significant financial investments you will make in your life and can often be a very complex process.
It doesn't have to be that way, and it can be an exciting journey and the beginning of a new life.
So, from the display homes to the CMA Design Studio, let CMA's passionate and experienced team guide you through the process. They will make your dream a reality.
And they will do so with honesty and transparency, two words that are frequently overlooked in the construction industry.
Address:41 Flinders Parade, North Lakes QLD 4509, Australia
Phone Number:+61 7 3188 9324
Website: http://www.homesbycma.com.au/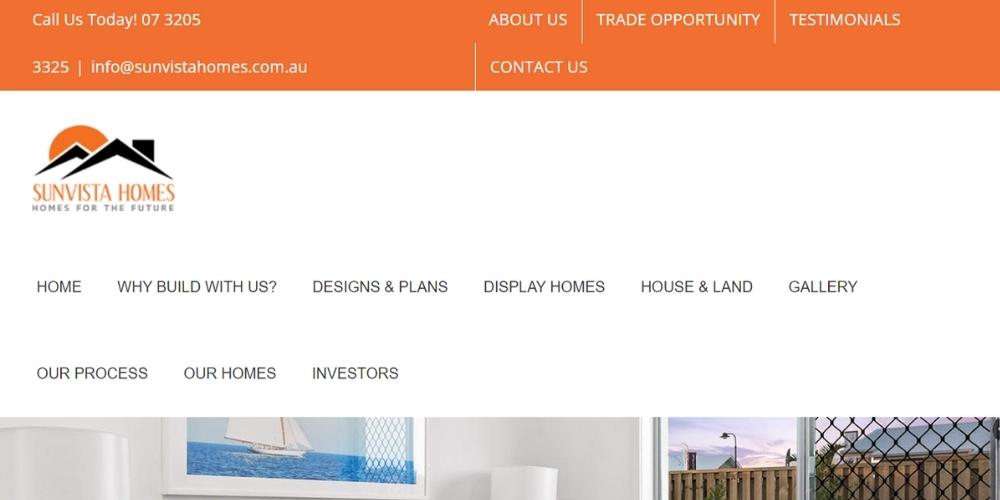 Sunvista Homes has been creating high-quality Brisbane homes for over 26 years.
They can build a house for you with peace of mind, whether you are a first-time home buyer, an investor, or planning on building your dream home.
Sunvista Homes can build house and land packages, your design on their land, or one of their existing designs for your block of land. They take pride in completing quality homes on time and within budget! All of their homes are built under a fixed-price contract, so there are no surprises.
Address: 3/211 Leitchs Rd, Brendale QLD 4500, Australia
Phone Number: +61 7 3205 3325
Website:https://sunvistahomes.com.au/
How to Choose Home Builders in Queensland
Make sure to ask for a detailed quotation.
Price is extremely important when building a home. Make sure to request a detailed quote. It will be a useful tool when comparing builders because it will allow you to assess what different builders include in their services and what is available for your budget.
A detailed quote is more than just a document that tells you how much something will cost. It also gives you a good idea of the level of detail the builder has gone to put together the pricing quote.
A lack of detail in a quote can also signal potential problems with a builder. In general, request detail and itemization in the quote.
Look for home builders with relevant experience and credentials for your specific home project.
Before hiring a home builder, ensure that he or she can provide examples of previous work. Consider these to be their resume or portfolio. If possible, request to see their previous projects in person. This way, you can get a true sense of their work.
Your homebuilder should provide you a realistic timeline.
Some builders work on multiple projects at the same time. If you already have a good builder in mind, learn about their timeline so you can be confident that they can complete your home in a reasonable amount of time.
While there will always be variables beyond the builder's control (for example, rainy days can halt construction work), ideally you want a builder who is confident enough to not only give you a timeline for when they can begin and how long it will take them to complete the project, but also to give you the added assurance of including liquidated damages terms in your building contract.
Be sure that all your questions are answered before starting the project.
It is a good idea to learn everything you can about your prospective builder before committing to them. Don't be afraid to inquire about their background, experience, and work. When it comes to your dream home, there is no such thing as a stupid or inappropriate question.
Always read the contract.
It is a good idea to learn everything you can about your prospective builder before committing to them. Don't be afraid to inquire about their background, experience, and work. When it comes to your dream home, there is no such thing as a stupid or inappropriate question.