The Best Wholesale Fruits and Vegetables In Melbourne
The amount of money you may save by purchasing wholesale is what makes wholesale purchases beneficial to your business. Purchasing fruits and vegetables from a grocery shop might be expensive. You may get the same amount of fruits and vegetables at a wholesale price that is around 25% less than what you would pay in a grocery shop. Wholesalers can sell their items at a lesser price since they buy in bulk, which cuts down on handling time and costs. They normally deliver big amounts of items, although they can also accept smaller orders. Melbourne restaurants and smaller food enterprises can definitely benefit from these sellers not only in price but also in quality! 
Enjoy the biggest deals and discounts with these Melbourne wholesalers! 
Melbourne's Wholesale Fruit and Vegetables Seller List
Melba Fresh are fresh produce wholesalers established for three generations at the Melbourne Markets in Victoria, Australia. Having evolved as a leader in wholesale fresh produce, today Melba Fresh offers a total fresh produce solution through three divisions. Represents some of Australia's premier growers and provides to greengrocers, independent supermarkets, providores and exporters a vast range of fresh produce and value-added lines. Some of Melba Fresh's proprietary brands include Bebe, Nakedveg, Dolcecos, Loovie and most recently Ditch The Kitch. Provides fresh produce to the hospitality industry, restaurants, food service, hospitals and special events and delivers throughout Melbourne CBD and beyond.
Address: 12-16 Dexter Drive, Epping 3076 Victoria, Australia
Contact: 03 9401 1188
Website: http://www.melbafresh.com.au/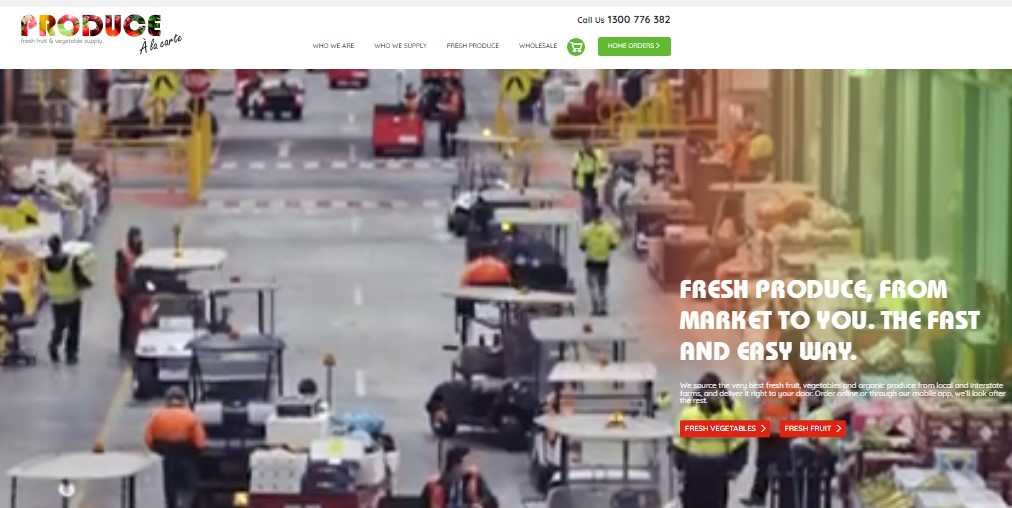 As one of APAC's largest fruit and veg wholesalers, Produce A La Carte's been keeping Melburnians healthy and well-fed for over 10 years. With impeccable quality control and unbeatable service, we source the best fresh produce from local, interstate and international growers to ensure that your business can whip up the healthiest, tastiest dishes for your clientele. Keeping it easy and convenient for you, we provide a fruit and vegetable seasonal guide to help you plan your seasonal menus in advance. Whether you need fresh fruit, vegetables, herbs, eggs or organic produce, Produce A La Carte will deliver it right to your door, on time and in full. Plus, with our uncompromising buying power and extensive network, you'll benefit from our highly competitive wholesale fruit & vegetable prices.
Address: 611 Flinders Street
World Trade Centre Tower 4 Level 10
Melbourne Victoria 3005
Contact: 1300 776 382
Website: https://www.producealacarte.com.au/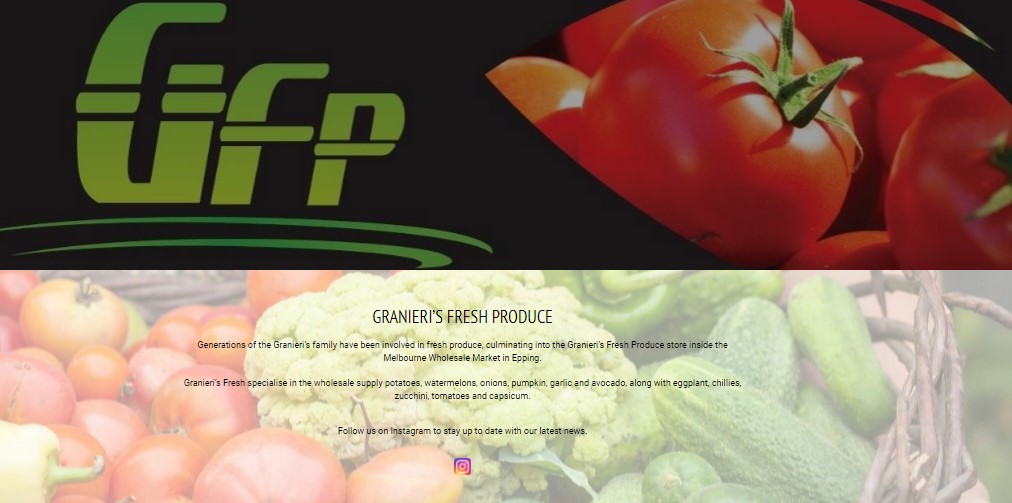 Generations of the Granieri's family have been involved in fresh produce, culminating in the Granieri's Fresh Produce store inside the Melbourne Wholesale Market in Epping. Granieri's Fresh specialises in the wholesale supply of potatoes, watermelons, onions, pumpkin, garlic and avocado, along with eggplant, chillies, zucchini, tomatoes and capsicum.
Address: Melbourne Wholesale Market, Store 61/35 Produce Dr, Epping VIC 3003
Contact: 03 9401 5050
Website:  https://gfpmelbourne.com.au/
Opening Hours: Mon-Fri  3am-10am
At Piccolo Fresh Fruit and Vegetable Wholesalers, we are driven by our passion for fresh produce and the utmost personal customer service to Melbourne's Food Service and Hospitality Industries. We pride ourselves on supplying our clients with a vast variety of quality seasonal produce and recognise the importance of tailoring our service to each client's individual needs. We are focused on sourcing Australian Grown Produce in order to support our local farmers and communities and are able to do so due to our longstanding affiliation with local wholesalers and growers.
Address: 105 Cromer Ave, Sunshine North VIC 3020
Contact: 03 9310 9355
Website: https://www.piccolofresh.com.au/
Opening Hours: Mon-Fri 430am -2pm, Sat 430am-11am
Pompei's Wholesale Fruit and Vegetables
Pompei's Wholesale Fruit & vegetables have been in business for over fifty years. Spanning over three generations, we continue to be one of the most reliable and efficient suppliers of wholesale fresh fruit and vegetables. We have expanded our business to support those in need of fresh fruit and produce at affordable prices through our home delivery service. This service allows you to order fruit and veg boxes with our team and have one of our friendly drivers deliver these directly to your home/business.  We strive to develop long-lasting relationships with our customers by providing quality products for each and every order.
Address: 6 Maxwell St, Dandenong South VIC 3175
Contact: 1800 339 378
Website: https://pompeiswholesalefruitandveg.com/pages/our-story-1
Opening Hours: Mon, Wed 4am -1pm, Tues,Thurs,Fri 4am-4pm
The key to the success of Barkers has been our great grower relationships. We know how to speak the grower's language, because we are growers. We always look out for our grower's best interests, and these strong relationships reward Barkers with the right support to supply our customers with the best products on the market. Produce for us comes from all over Australia, even all over the world. Our journey started with apples, pears, potatoes and onions, steadily increasing over the past 100 years to include 106 lines of the best quality fruit and vegetables. Our grower base of 20 key growers supplies Barkers with our central product lines, while our entire network consists of over 600 trusted growers to ensure consistent year-round quality.
Address: Melbourne Market Pad 3, Warehouse 2-4 315 Produce Drive, Epping VIC 3076
Contact: 03 9408 4860
Website: http://www.barkersfreshproduce.com.au/
Opening Hours: Mon-Sun Open 24 hours
Fresh Express Fruit and Vegetables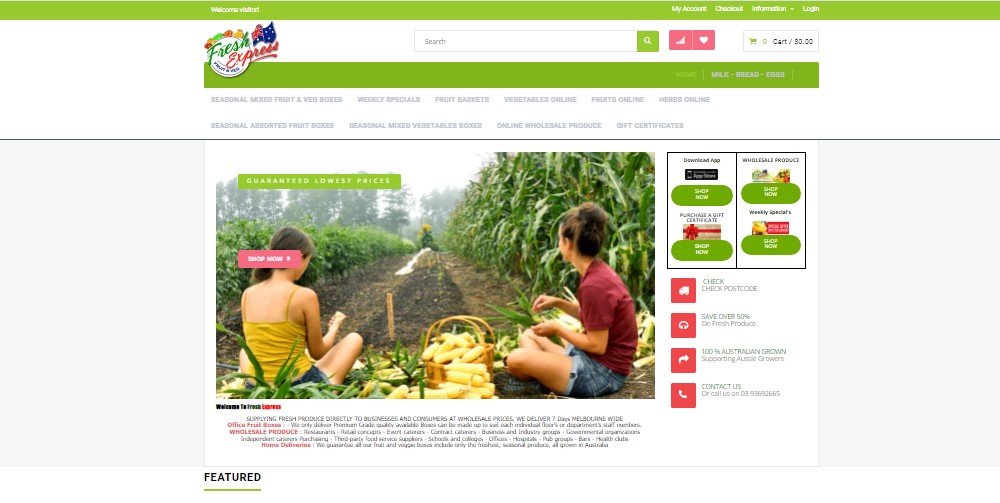 Delivering the finest fruit and vegetables to our customers all over Melbourne. We're proud to supply a delectable selection of fruit and veg to childcare centres, offices, and the hospitality industry in and around Melbourne. We've made it our mission to help as many people as possible experience the goodness that fresh produce can bring. From individual buyers to large businesses, everyone is welcome at Fresh Express, and we will always provide the freshest, most delicious fruit and vegetables direct to your door. Every day, we buy from local growers and the Melbourne wholesale markets, so we can guarantee that our customers are getting the very finest produce in town. Everyone benefits from this approach- local farmers get the support they need to keep growing their fantastic fruit and veg in Melbourne, and our company also has a lower carbon footprint as a result. To this end, we're delighted to be developing a growing network of Australian suppliers, so that we can always offer our customers something delicious, that also gives back to the local economy.
Address: 2/32 Chelmsford St, Williamstown North VIC 3016
Contact: 03 9369 2665
Website: https://www.freshexpress.com.au/
Opening Hours: Mon-Fri Open 24 hours, Sat 530am-2pm, Sun 7am- 1pm
With a 100-year history, LPG is the coming together of various produce businesses that have evolved into one of the largest fresh produce supply chain companies in Australia. LaManna Premier Group (LPG) is one of Australia's largest fresh produce supply chain companies, providing domestic and overseas customers with a single source of supply across a diverse range of fruit and vegetable categories. The Group's farm production capacity and grower network spans all Australian states and includes open field growing as well as protected cropping. Our farming and distribution operations, coupled with major and independent retailer relationships, ensure we reach Australian households with good quality, healthy, fresh produce.
Address: 35 Produce Dr, Epping VIC 3076
Contact: 03 9687 7725
Website: https://lpgroup.com.au/
Opening Hours: Mon 12am-830am, Tues- Wed 2am-830am, Thurs-Fri 1am-830am
Morabito Wholesale Fruit & Vegtables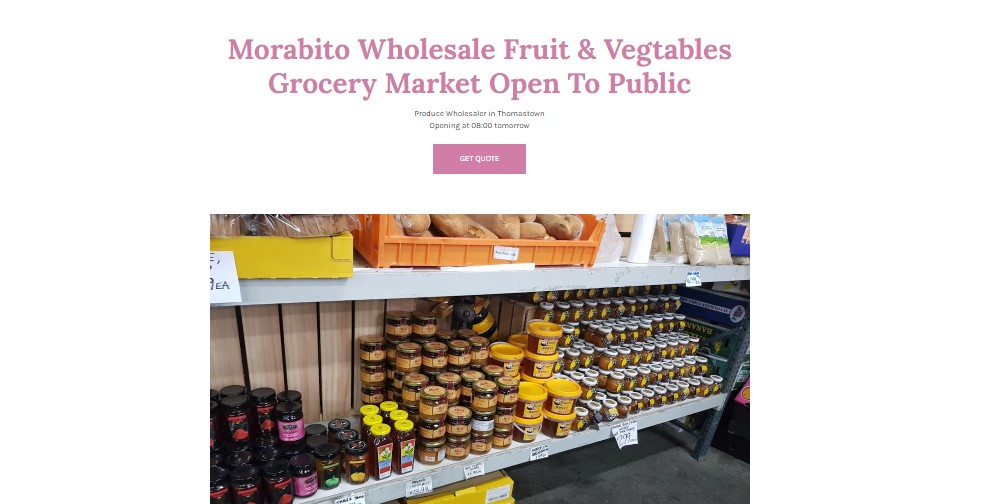 Morabito Wholesale Fruits and Vegetables is a product of three generations of wholesalers. All their fruits and vegetables are proudly sourced locally and direct from Australian farmers. They offer the cheapest prices and the largest discounts to the public and they also offer a wide selection of European products. 
Address: 169 Settlement Rd, Thomastown VIC 3074
Contact: 03 9464 4744
Website: https://morabito-wholesale-fruit-vegtables-grocery.business.site/
Opening Hours: Wed-Fri 8am-5pm, Sat-Sun 8am-430pm
At Morco Fresh, quality service is in our DNA, with our family roots in the industry stretching back generations. In fact, the family patriarch, Nicholas Moraitis's connection to the industry goes back 50 years, and his two sons, Stephen and Paul, have been in the business of fruit and veg for over three decades. It is this rich history that makes our quality service possible. And while we are a company built on tradition, we are contemporary and innovative in everything we do. Everything we do is about getting the freshest produce from local growers to you in the most efficient way possible. Central to this is our ability to tailor our food service to your needs, made possible by genuine relationships with our growers and our experience in the industry. At Morco Fresh we don't just deliver produce to you, we work with you to find the best possible food solution that suits your needs at that moment.
Address: 49 Market Rd, Sunshine VIC 3020
Contact: 03 9362 0000
Website: https://www.morcofresh.com.au/
Opening Hours: Mon-Sun Open 24 hours
Shop at Melbourne's Best Wholesale Fruits and Vegetables Dealers! 
If you own a hospitality venue or another food-related business that serves consumers, you must have a trustworthy wholesale fruit and vegetable supplier. When the quality of these things falls short of consumers' expectations, they will look elsewhere for their wants or aspirations. Furthermore, the wrong supplier will fluctuate in the quality of the food it carries, thus one week all the produce may be of good quality while the next week, veggies and fruits will be completely unfit for your needs. Shop in one of Melbourne's Best Wholesale Fruits and Vegetable Shops and you'll never go wrong with freshness and quality!