Melbourne's Best Online Meat Delivery Services to Try
If you have never purchased meat online, you may be apprehensive about the safety of buying animal protein for your family on the internet. This is a legitimate worry to have. It is crucial to be sure that purchasing perishable foods like meat online is risk-free and won't infect you or your family.
It is totally safe to purchase meat online as long as you work with a reliable meat delivery service and keep your meat appropriately once it gets to your house. To ensure that the meat you purchase online is completely safe for ingestion, keep reading to learn some best practices for doing so. The simplicity of ordering beef online is one of its main benefits. You don't need to go all the way to the neighbourhood butcher shop or locate one of the few remaining ones there to accomplish it. You're in luck since Melbourne has the top meat delivery services available online!
Top Online Meat Delivery Services in Melbourne
The Meat-Inn Place Lilydale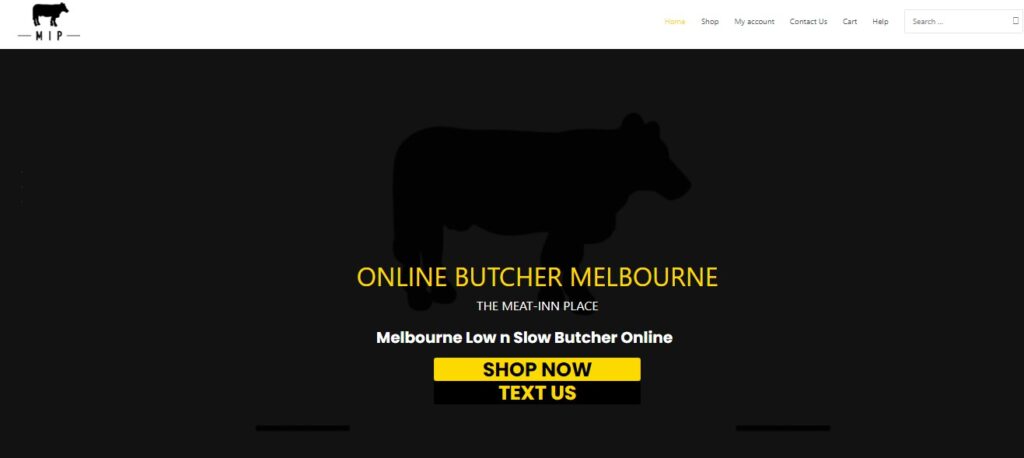 .Award-winning Melbourne butcher, The Meat-Inn Place, provides restaurant-quality meat that is produced locally and responsibly and is delivered right to your house. We are a Lilydale-based family company that has served consumers well for more than five years and counting. Our Briskets, Shorties, Tri-Tip, Pork Ribs, Beef Shins, Beef Cheek, Lamb Shoulders, etc. are widely recognised in the "Low and slow" community. With marble ratings ranging from 2 to 10, our selection comprises grass-fed, grain-fed, barley-fed, and wagyu cattle. Over the years, our Melbourne-based Low n Slow brand's reputation has expanded, and we now offer Low n Slow meats everywhere in Melbourne. We sell a variety of meats, including chicken thighs, lamb shoulders, porterhouse steaks, pig spare ribs, loin chops, chicken breast fillet, and meats that are locally produced, to name a few. We provide meat delivery Melbourne of our premium meats throughout Melbourne, from Melbourne to St Kilda, the Yarra Valley, and even to the Mornington Peninsula. For additional information about delivery days, see our meat delivery guide.
Address: 333 Main St, Lilydale VIC 3140
Contact: (03) 9738 7555
Online Shop: https://www.themeatinnplace.com.au/shop/
Online Butchers Melbourne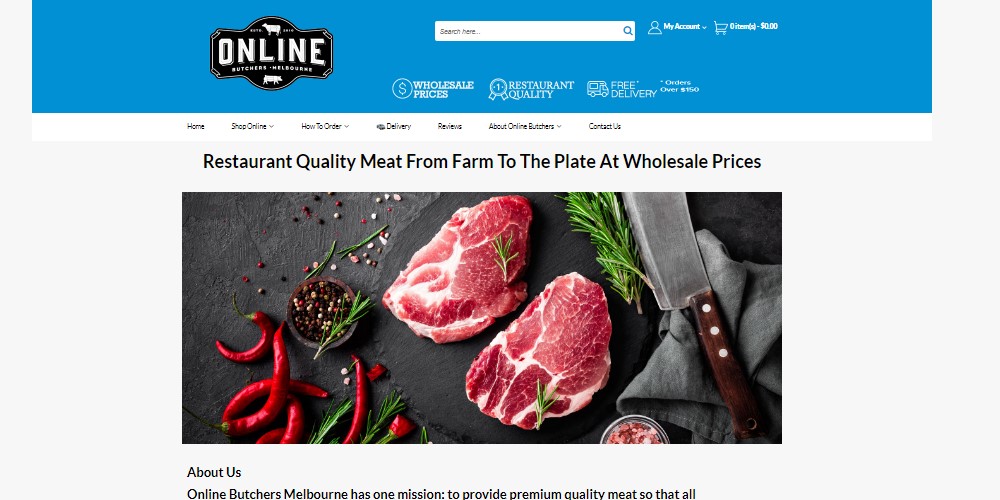 Online Butchers Melbourne has one mission: to provide premium quality meat so that all Melbournians can eat better. We are great butchers that source premium products from farm assurance farmers.
Online Butcher is a one-stop-shop for your next catering need. We specialise in meat packs and individual cuts. All meat is delivered from our factory to your front door under strict guidelines of HACCP and PrimeSafe. 
Contact: 0410 937 813
Online Shop: https://www.onlinebutchersmelbourne.com.au/
Meatsmith is a Melbourne-based butcher, providore & wine merchant with locations in Fitzroy, St. Kilda, Balwyn & Brighton. Our distinct vision is to provide exceptional quality & service for our customers. Our selection is fastidious so that you can shop easily, conveniently and consciously.  We are not just purveyors, but butchers and chefs, with expert knowledge and skill when it comes to provenance and preparation. We take care of every step of the process – from relationships with farmers, to breaking down whole animals, to marinating, boning, rolling, dry ageing, seasoning and cooking tonight's dinner ready for you to heat at home. Our selection of restaurant-quality meals is prepared by our chefs, with our core range complemented by seasonal highlights all throughout the year.
Contact: (03) 9534 3434
Online Shop: https://meatsmith.com.au/
Welcome to our Sausage Hut, we are the Meister of the European Sausages. Old Werner Muller started the Wursthutte Butcher Shop in Malvern more than 35 years ago. Werner brought his secret Sausage Recipes from Switzerland, his goal was to produce the most authentic European sausages for his Australian customers. His quality standards were extremely high, the Wurst (sausage) needs to be so perfect, that you could sell it in any European Butcher Shop in Zurich, Munich or Vienna. With his skills and expertise, he produces quality products that are hard to find anywhere else in Australia, this being the key to his success. Come and try for yourself, our sausages, meat and continental small goods are all available in-store at Glenferrie Road or order them online through our website.
Contact: 9509 3359
Online Shop: https://www.wursthutte.com.au/
Australian Butchers Store
We're a proudly Australian-owned company with a passion for giving every Victorian access to high-quality cuts of meat. From everyday families to the Food Service industry, clients and customers across the state choose us for our commitment to not only quality products, but outstanding customer service, too. We value our long-standing relationships with farmers across the state and work with leading producers who value quality as much as we do. Our team is trained in and practices strict hygiene protocol, ensuring the health and safety of the entire supply chain. Our four stores serve Melbourne's east and peninsula regions, while our convenient meat delivery Melbourne options service the entire state.
Contact: (03) 9796 1733
Online Shop: https://butchersstore.com.au/delivery/
Top-quality Australian meat sourced locally and processed on the Mornington Peninsula, Melbourne, Victoria. Our dedicated team of qualified butchers will cut and pack all your meat fresh and arrange your order ready for delivery. The Meat Box is an online butcher that delivers to your door. We aim to provide top-quality meat and service at a fraction of the price of other outlets. Save money and time by ordering your meat at The Meat Box.
Contact: 0410806981
Online Shop: https://themeatbox.com.au/
Hagen's Organics is a second-generation, family-run butchery based in Melbourne. With five stores located around the city, Hagen's Organics provides the community with organic, ethically raised and locally sourced meat.   In 1998 Hagen's Organics made a shift from fruit and vegetables, to beef, pork, poultry and lamb, with Royce opening Hagen's Organic Butchers at the Prahran Market. This move meant Royce became one of Victoria's first organic butchers, working with local farming families to bring Melbournians the best quality meat available.  
Contact: (03) 9428 2471
Online Shop: https://hagensorganics.com.au/
Meat Online supplies a full range of chilled and frozen beef/lamb/pork/chicken/game meats / small goods / crumbed products as well as many other value-for-money products. Meat online provides your primals in the original carton in which they were packed at the abattoir or processing facility, ensuring there has been no substitution and, importantly, that you get what you pay for.
Contact: 1300 59 69 39
Online Shop: https://meatonline.com.au/
We want Australians to be excited about their homegrown produce, and this starts with creating a way to conveniently access high-quality meat at affordable prices. As Victoria's farmland produces some of Australia's best meat, this allows us to be highly selective about which partners we work with. With Meat Mama you receive nothing but locally-sourced premium meat, free from preservatives, hormones, and other common chemicals.
Just as we accept no compromise from our service partners, we believe our customers should be entitled to expect the same from us. Committed to stellar customer service, quality control, and continuous improvement, we endeavour to be Australia's highest-quality Melbourne meat delivery provider for years to come.
Contact: support@meatmama.com.au
Online Shop: https://meatmama.com.au/
LL Online Meat Shop & Butchers
L&L Master Butchers is a team of passionate individuals whose goal is to craft homemade small goods in-store, using traditional recipes and techniques at an affordable price. We have been awarded GOLD medals at the 2018 Australian Meat Industry Council's Annual Awards Dinner. We are now home to the best: Shortcut Bacon and Butcher's Beef Burger (Taco and Sweetcorn). &L Master Butchers are modern meat specialists committed to sourcing grass-fed, free-range and hormone-free livestock, as this is the healthiest option for both our customers and our environment. We pride ourselves on bringing you the best products available. We are confident in assuring you that our produce is sourced from local farms with the highest ethical standards across Victoria.
Contact: (03) 9557 5611
Online Shop: https://llbutchers.com.au/
Freshness Right at your Doorstep! 
Online meat purchasing allows you to do your produce shopping whenever and wherever you choose. You may simply plan your shopping around your schedule as there are no opening hours to worry about, avoiding hurried trips to the store before or after work. With such a wide variety of meats to pick from, you won't have any problem finding precisely what you're searching for! Try ordering from one of the best Melbourne meat delivery services today!