Melbourne's Best Driving Schools
Taking driving lessons is an excellent method to learn proper driving practices and how to drive safely. Using safe driving skills, for example, can help you avoid potentially harmful situations on Melbourne road. According to studies, when you first start driving on your own, you have a far higher probability of getting involved in a car accident. Taking a driving class and identifying your flaws is an excellent way to start becoming a safer driver. Learning to drive is a little investment that you should undertake if you want to feel more independent. It is a crucial talent that you should learn and master, which comes in handy, especially in emergency situations! However, you need to attend a driving school to learn how to drive. Driving school aids in the development of knowledge and abilities. You effectively get the best of both worlds when you become a great driver. You gain a deeper understanding of everything about the car in addition to building proper driving habits.
Go ace that driving test and get your driving license with the best driving schools in Melbourne! 
Top Ten Driving Schools to Enroll in Melbourne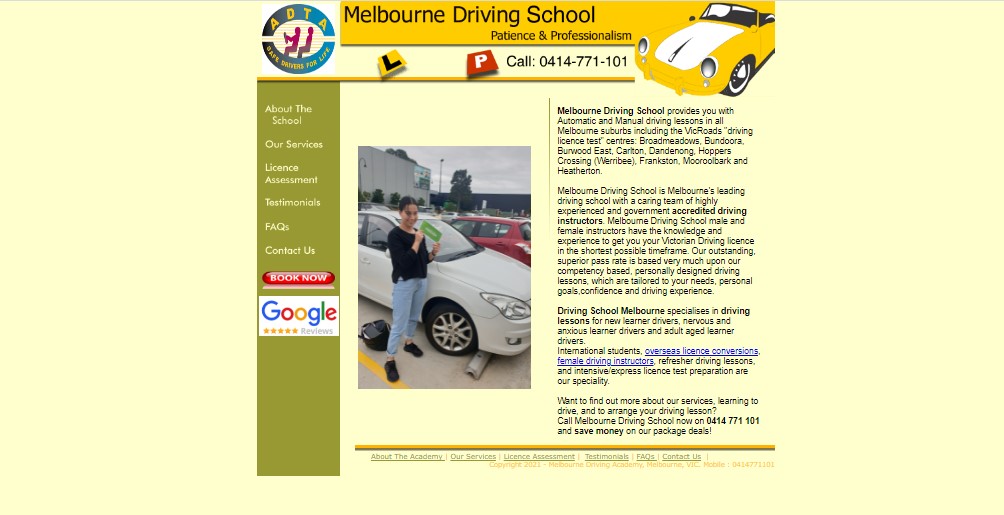 Melbourne Driving School provides you with Automatic and Manual driving lessons in all Melbourne suburbs including the VicRoads "driving licence test" centres: Broadmeadows, Bundoora, Burwood East, Carlton, Dandenong, Hoppers Crossing (Werribee), Frankston, Mooroolbark and Heatherton. Melbourne Driving School is Melbourne's leading driving school with a caring team of highly experienced and government accredited driving instructors. Melbourne Driving School male and female instructors have the knowledge and experience to get you your Victorian Driving licence in the shortest possible timeframe. Our outstanding, superior pass rate is based very much upon our competency-based, personally designed driving lessons, which are tailored to your needs, personal goals, confidence and driving experience.
Contact: 04 1477 1101
Website: http://www.melbournedrivingschool.com.au/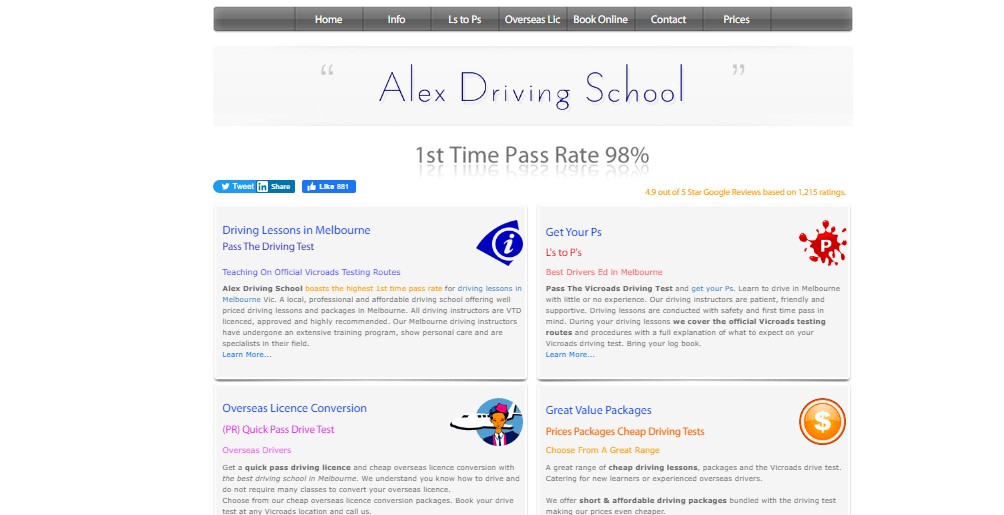 With Alex Driving School you can expect the following:
One on one exclusive driving tuition in Melbourne with no other clients in the car. (You may be accompanied by 1 person, parent or friend)
Don't pay extra. Prices are fixed including early morning, after hours, weekends and all holidays
Competitive range of cheap packages in all Melbourne suburbs
Priority online booking form for all Melbourne locations. We check online bookings and emails in real-time and reply emails ASAP
Our driving instructors know and we teach you the official Vicroads testing routes where you gain a great advantage in passing the driving test
Pick up and drop off door to door service including home/work or train station. We encourage all clients to meet at your local Vicroads for the best results and value for money
We do not embed customer reviews on our website. Check what others are saying about our driving instructors with independent Google Reviews
Contact: 04 1140 3111
Website: https://www.alexdrivingschool.com.au/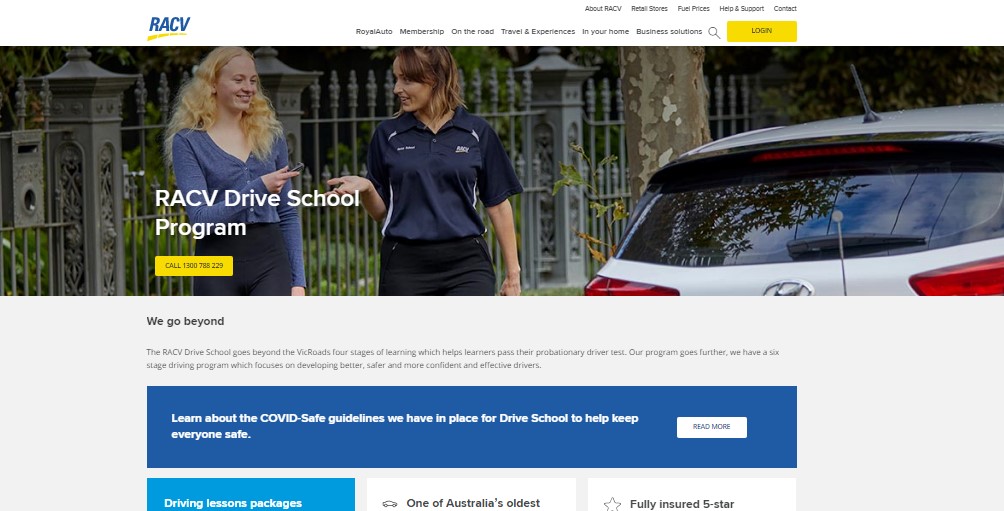 The RACV Drive School goes beyond the VicRoads four stages of learning which helps learners pass their probationary driver test. Our program goes further, we have a six-stage driving program that focuses on developing better, safer and more confident and effective drivers. RACV Drive School has 80+ instructors across Victoria. All our instructors are thoroughly vetted, with Working With Children, Driving Instructor Authority, Police, and Background checks. Our instructors have full, comprehensive insurance including Professional Indemnity and Public Liability insurance. All of our cars are new, 5-star ANCAP-rated vehicles full of the latest tech and safety features. 
Contact: 13 72 28
Website: https://www.racv.com.au/on-the-road/driving-maintenance/drive-school.html
The road can be a frightening place, particularly when you're just getting used to it for the first time. That's why at Master Driving School, we guide you through each lesson with care and patience, ensuring that you feel completely comfortable during your training. At Master driving school, we pride ourselves on friendly instructors that can get you in the car most times within 7 days. With many years of experience in the industry, our driving school selects the best driving instructors that are highly skilled in training many happy students all around Melbourne. Our driving school prides itself on our outstanding 5-star reviews from all our graduates and happy students in Melbourne. Master driving school expertise is in the professional driving lessons provided by our instructors who proudly deliver the training to all our wonderful students in our driving school.
Contact: 1300 828 920
Website: https://masterdrivingschool.net.au/
Sprint Driving School Melbourne offers affordable driving lessons in Melbourne & nearby suburbs. Our highly experienced driving instructors can help you with casual driving classes and VicRoads drive tests. We have locally available, expert teaching staff who are friendly and patient with all our students. We offer professional driving lessons in Melbourne with the help of our expert driving instructors. Our proven educational techniques will boost your skills and ensure you are safe on the road. So, spare yourself the stress of learning to drive and book in with us today. Our driving lessons ensure that you are skilled enough to clear your VicRoads Driving Test and hit the road.  Sprint Driving School has a variety of local driving instructors in Melbourne. Whether you need a basic driving lesson or a more advanced one, our experienced instructors can help get you started on the road safely. We are one of Melbourne's oldest driving schools. We have been offering the best driving lessons in Melbourne for a long time. The VicRoads' four stages of learning are only part of the learning process for new drivers. At Sprint Driving School, we go beyond the VicRoads' four stages and provide a comprehensive six-stage program that will help improve your driving skills. Our vehicles are fully insured. We have full insurance coverage for all of our instructors and their vehicles. Book the right driving instructor with Sprint Driving School and start taking lessons today. We follow all COVID Safe guidelines and accept bookings for driving lessons across Melbourne.
Contact: 04 1851 9228
Website: https://www.aasprint.com.au/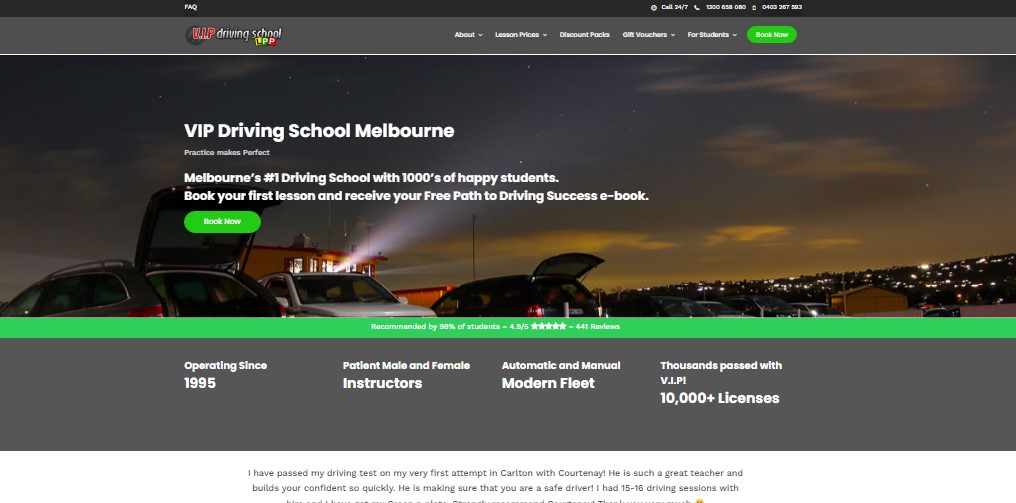 We are a family-owned business established in 1995 and a proudly Australian-owned company. VIP Driving School has a Team of Experienced Instructors who are self-employed and operate under the VIP banner, meaning you deal with a business owner each time. Our fleet of vehicles are modern and safe with dual controls for peace of mind. When we first began, we quickly adopted a philosophy from a customers' point of view, to offer great value for money. We work on an individual basis to teach driving students as fast as they can learn and give student drivers the best experience and knowledge they need for the future. Every lesson with VIP Driving School is tailored individually to the student driver by our very experienced driving instructors. Our focus is not only on just passing the driving test on the first attempt but we also ensure you become a defensive driver for life. We are proud members of the Australian Driver Trainers Association (A.D.T.A).
Contact: 04 0326 7593
Website: https://www.vipdrivingschool.com.au/
Easy Pass Driving School is one of the most reputed driving schools in Melbourne, offering effective and reliable training programs to help you easily pass your driving test. We have an excellent track record of helping our students pass their exams on the first attempt and earn their licenses quickly. Our team of highly skilled driving instructors are experienced and qualified to understand all your needs. We provide you with the right driving lessons and training to help develop your skills meticulously. We ensure that you do not just pass your driving test but gather all kinds of necessary skills to become a well-rounded driver. We offer a standard range of cars with both automatic and manual gears to help you acquire a diverse range of skills to suit your needs. We also provide pick and drop off services across Melbourne, in case your busy schedule does not permit you to attend our driving school on time. Most importantly, our services are very affordable!
Contact: 04 3452 0543
Website: https://easypassdrivingschool.com.au/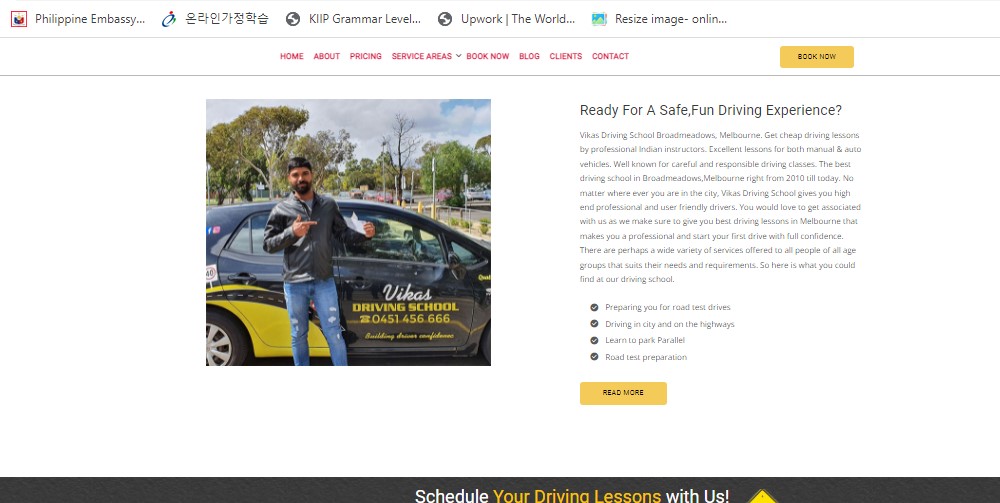 Vikas Driving School Broadmeadows, Melbourne. Get cheap driving lessons from professional Indian instructors. Excellent lessons for both manual & auto vehicles. Well known for careful and responsible driving classes. The best driving school in Broadmeadows, Melbourne right from 2010 till today. No matter where ever you are in the city, Vikas Driving School gives you high-end professional and user-friendly drivers. You would love to get associated with us as we make sure to give you the best driving lessons in Melbourne that makes you a professional and start your first drive with full confidence. There are perhaps a wide variety of services offered to all people of all age groups that suits their needs and requirements. So here is what you could find at our driving school.
Preparing you for road test drives
Driving in city and on the highways
Learn to park Parallel
Road test preparation
Contact: 045 145 6666
Website: https://www.vikasdrivingschool.com.au/
Your Local Driving Academy
Welcome to Your Local Driving Academy. We are a leading Melbourne-based driving school. Our driving instructors are experts in the field and offer the best driving lessons across Melbourne. We are the only driving school in Melbourne that follows a structural framework for driving lessons. Our proven techniques ensure that our students become confident and safe drivers. Being a renowned driving school, we can tailor driving lessons according to individual needs. We offer a wide range of lessons and driving test packages. All our packages are affordable. "Your Local Driving Academy" is one of the Best Driving Schools in Melbourne for many people in and around Metropolitan cities and suburbs. Since its inception in 2006, it has imparted affordable Driving Lessons to more than ten thousand drivers who have been able to obtain Driving licenses in Victoria. It mainly focuses on safe driving skills and makes the Learner Driver aware of updated traffic rules. To remain vigilant and overcome the difficult situation is our main motto and we are Learner's Log Book Specialist.
Contact: 0455 889 588
Website: https://localdrivingacademy.com.au/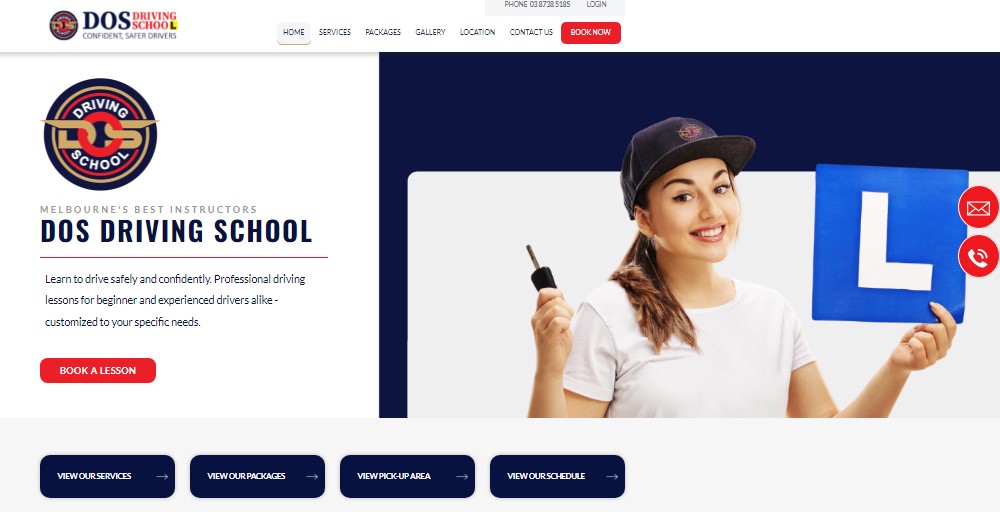 Our goal is to make safe driving affordable and fair for our customers. We know that cheap lessons aren't good, and good lessons aren't cheap – but we've found ways to save our students some money and time! Anyone who wants to learn to drive safely and confidently and wish to have a lifetime of safe and enjoyable driving experience DOS Driving School is the right choice for your Melbourne Driving Lessons. We understand the difficulty in learning new skills and we take this into account to ensure that all our driving lessons are delivered in a relaxed and comfortable environment. All our instructors are fully qualified and experienced to guide you through the learning process to make you fully prepared with the skills and knowledge required for your driving test. All our lessons are conducted on the local roads to provide ease when taking your test and we will keep you informed on your progress in acquiring driving skills. Our instructors will also arrange to pick you up and drop you off at your choice of location.
Contact: 03 8738 5185
Website: https://dosdriving.com.au/
Pick Your Driving School of Choice and Pass That Test!
Driving instructors who are trained, experienced, and qualified will ensure that you gain the most knowledge and pass your driving exam. So, if you want to realize your dream of getting a new car and driving it without any problems, the best thing you can do is enroll in a reputable driving school in Melbourne!