Best History Podcasts Not To Miss
Out with the books and in with the podcasts? A podcast's unique capacity to highlight the process of learning can also connect listeners to scholarship in ways that texts often fail to do. Instead of downplaying their relationship to their study, academics might use podcasts to inject themselves into their arguments. Podcasts can help you bridge the gap between "history you had to learn" and "history you want to learn." They can sometimes foreshadow or provide context to historical debates that span centuries. If you are someone who has a budding penchant for history but is not a fan of reading books, history podcasts are the best option for you! Learn from the past when you listen to the best history podcasts of all time!
Most Popular History Podcasts To Listen To
Dan Carlin's Hardcore History
Most people's deep dives look shallow in comparison to Dan Carlin's. Carlin has a commanding understanding of history's subtleties and how events and figures large and small work together to produce the society we live in today. He is discursive, digressive, both vast and granular. Unlike some of the other podcasts on our list, Hardcore History doesn't rely on music, sound effects, or historical soundbites; instead, Carlin spends much of his multi-hour-long episodes explaining you what occurred, what people remember, and what it all means. It's like attending a history lesson by an exceptionally brilliant (and tireless) professor.
This essayistic presentation delves into the history of country music and some of its biggest names. Even those who have never worn a cowboy hat will be fascinated by the genre's tumultuous past. In the first episode, host Tyler Mahan Coe investigates why Loretta Lynn's birth control song "The Pill" was banned from radio stations but not her male counterparts' significantly more violent and ethically dubious material. Later chapters go into the rise and fall of Spade Cooley, who was convicted of brutally murdering his wife in 1961 only to be pardoned years later by then-California governor Ronald Reagan. Many of these stories were told to Coe as a child by his father, country criminal David Allan Coe. But, especially when it comes to sexism in the music industry, his meticulous re-examination of facts and myths makes a persuasive case for their enduring significance.
Go back to school with the country's top professors lecturing on a variety of topics in American history. New episodes posted every Saturday evening. From C-SPAN, the network that brings you "After Words" and "C-SPAN's The Weekly" podcasts. Lectures in History is a collection of history professors' lectures given to college and university audiences around the United States. Despite the podcast's scholarly content, it is easily accessible. Listen to the episode Why Hip Hop Began in The Bronx, which was released on September 10th, 2017 to get a sense of whether you'll love the show. 
This long-running podcast features tales about diverse things, people, and places throughout history, such as Coney Island's historic Dreamland amusement park before it burned down in 1911. Nate DiMeo, the host, intentionally omits episode descriptions in the hopes that listeners will go into each narrative blind and succumb to the memories that each subject conjures up. With detailed imagery and wistful commentary, he delivers compassionate stories about his subjects and conjures dream-like landscapes. The episodes can become a little esoteric at times. He also recited Walt Whitman's "Song of Myself" in full during the 2016 presidential election. But DiMeo is more interested in evoking a nostalgic emotion than in proving a point, and he succeeds.
The MacArthur Memorial's World War I Podcast, which is meticulously researched and beautifully presented, merits a place on our list. This podcast, which was released to commemorate the centennial of the First World War, tells the tale of the war in 20 to 40-minute episodes that are released monthly. Listeners are provided with a chronological history of the war's growth as well as an in-depth study of the most major events and battles, with the goal of answering some of the most difficult problems that the twenty-first century has thrown up. Throughout, it is clear that the lessons learned during the Great War are still relevant today, despite the passage of time.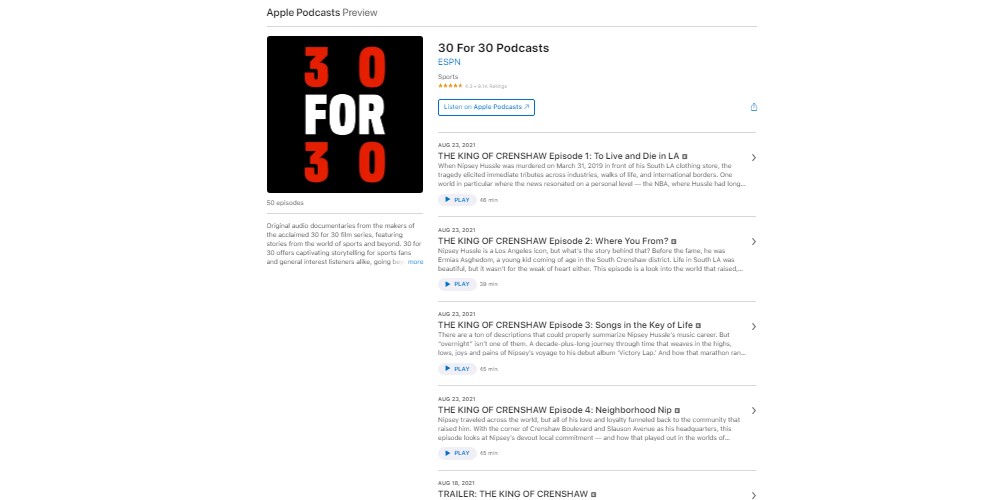 There are a lot of political shows on this list, but if you prefer sports history, listen to ESPN's 30 for 30 podcast, which has the same spirit and emphasis as the television documentary series of the same name. Start with season three, episode four ("Six Who Sat"), which follows two of the first women to compete in official marathons such as the Boston and New York races, which were previously closed to female runners. Or, on how that, eh, legendary saying came to be, watch season one, episode two ("Yankees Suck"). Each episode is followed by a follow-up episode containing behind-the-scenes information, additional interviews, and thoughts on the podcast's creation in later seasons.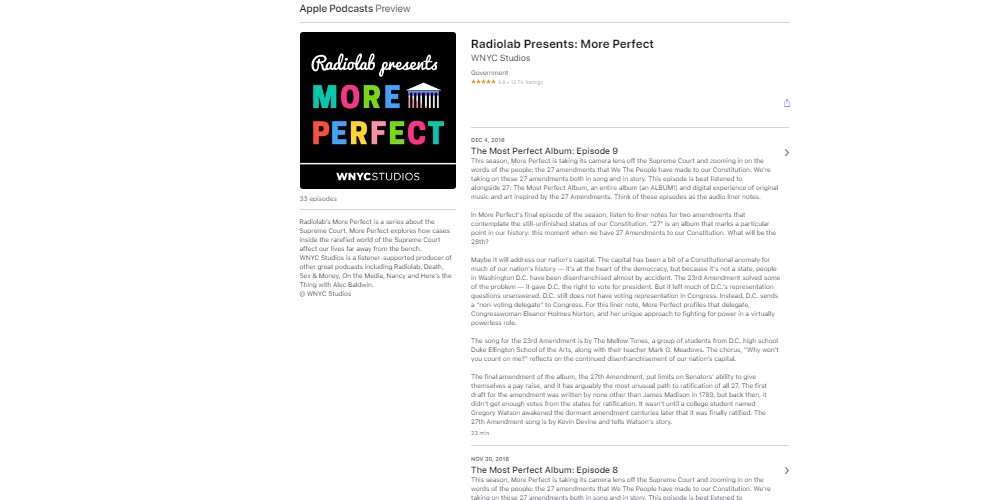 It's maybe no surprise that the founders of "Radiolab," the popular and long-running podcast, are also behind one of the best history podcasts available. Each episode of More Perfect delves into a specific Supreme Court case, attempting to get insight into the minds of the justices in order to better understand why they produced decisions that have reverberated across American culture for decades, if not centuries. More Perfect helps us comprehend why American history has unfolded the way it has and what the future may hold for those interested in Supreme Court judgments – and everybody living in America should be, considering how their judgements can drastically impact our lives.
Making Gay History aims to change that by sharing the tales of the people who campaigned for LGBTQ civil rights for decades. Many of these have gone virtually unnoticed — until now. In October, the podcast will launch its ninth season, which will feature content from the Studs Terkel Radio Archive.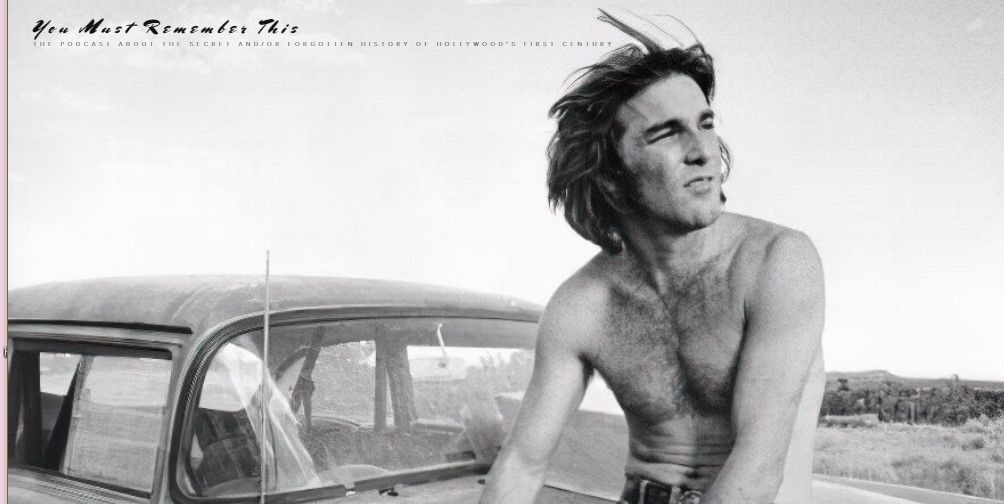 You Must Remember This documentary explores the weird and lost history of old Hollywood. Karina Longworth, the show's host and producer, conducts extensive research on the events and crafts compelling narratives. Longworth's series on Charles Manson is an excellent starting point for the series. It explores Manson's startlingly deep Hollywood links — hidden parts of history lost to time and publicity — and how the killings shaped the end of the 1960s.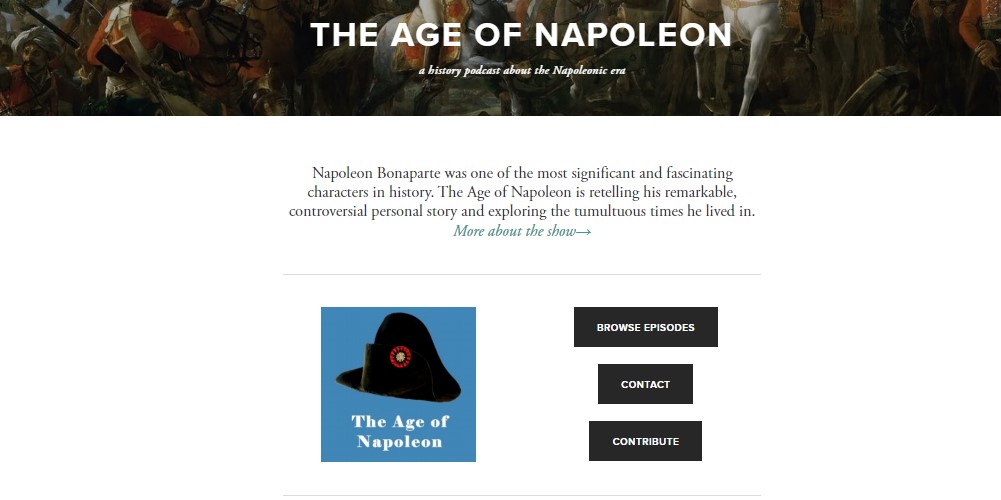 One of my (many) main hobbies became the Napoleonic era. E.M. Rummage, the show's host, has produced more than 80 incredibly detailed episodes about Napoleon Bonaparte. Not truly about Napoleon, albeit he is the sun around which the drama revolves. Rummage enjoys tangents and background as he works his way through the history of Napoleon's reign. The presentation may appear a little dry at first, but you will become fascinated with time. I finished the entire backlog and am now impatiently awaiting new episodes.
Travel Back in Time Through Podcasts
Podcast episodes are a useful on-the-go choice for students with busy schedules because they can be readily accessed on applications like Spotify. It also helps that the podcast genre has become so diversified, with topics such as history, crime, and pop culture catering to listeners of all tastes and inclinations. Reading and watching videos both demand your complete concentration. Podcasts and audiobooks free up your eyes to do things like tidying, travelling, crafting, and anything else that doesn't require you to 'hear yourself think.'