15 Of Melbourne's Best Florists
Floral arrangements are popular in Melbourne, where they are given as presents and used to mark important occasions and milestones. 
Fortunately, there are florists in every neighbourhood in Melbourne and it will be easy to find one. They're the greatest, and they specialise in everything from eco-friendly arrangements to traditional bouquets to vibrant hues. 
Let's get to know some of the most excellent florists in the city of Melbourne.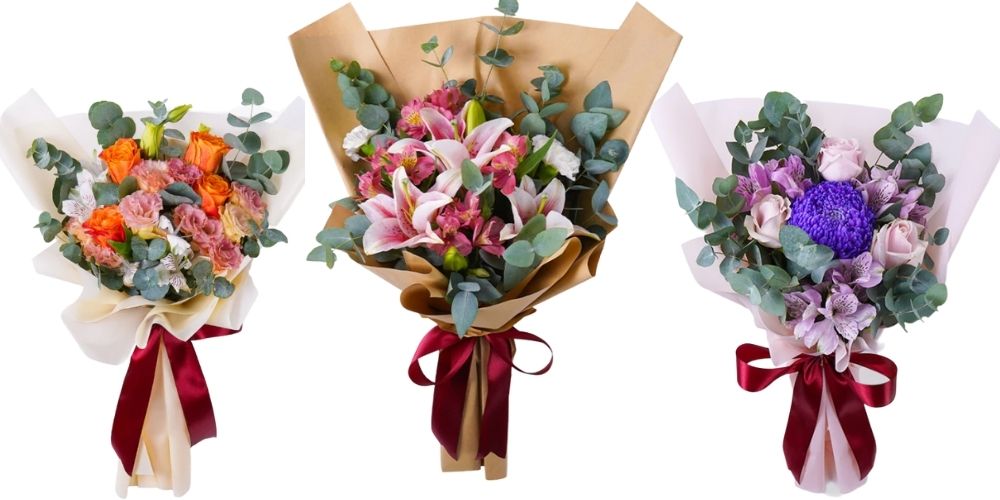 There is a good chance you've never heard of Bloomeroo since they are a relatively new player in the internet market. You'll always be able to choose the perfect bouquet to send to a friend in Melbourne, whether it's a birthday, an anniversary, a new baby, condolence, or graduation.
Delivering fresh flowers throughout Melbourne suburbs is Bloomeroo's primary goal. Local floral specialists and homegrown suppliers are used to guaranteeing that the freshest flowers are available for your order. The best blooms are ready to go, so pick and choose what you like. Because they're online, it's the most significant part. Order a surprise care box for a loved one while you're at work or watch your favourite Netflix series on Bloomeroo. 
T: (03) 9917 5372
Website: bloomeroo.com.au
This Fitzroy flower shop is known for its brilliant yellow sunflower windmill. Still, if you're looking for something else, you'll be greeted with a vast assortment of houseplants, bouquets, and ceramic vases and stems. Vasette, which opened in 1989, has become well-known for its attractive arrangements that emphasise the freshness of the ingredients rather than extraneous garnishes and accompaniments.
T: (03) 9419 4988
Website: flowersvasette.com.au
There are few better places to get your hands on native flowers than Azalea, located in the South Melbourne Market. Owner Michael Pavlou connects clients with flower farmers in the Melbourne area to shop for flowers with a more personal touch. These florists want to provide everyone with beautiful flower arrangements by cutting out the intermediaries at a low price.
Wedding florists and floral designers may be found at Azalea! Make sure to check out their seasonal flowers and native types that are enticing. For a taste of the Coventry Street Edge's wares, stop by the market or buy online.
T: (03) 9696 4978
Website: azaleaflowers.com.au
After almost 14 years, Paul Hyland initially launched the rainforest-like Glasshaus. This sustainable flower store has subsequently expanded to include an indoor-plant nursery and an events area close to the Richmond neighbourhood. In addition to vases and installations in some of the city's most exclusive restaurants and cafés, Glasshaus also offers a large assortment of unique flowers designed just for gifting.
T: (03) 9428 0062
Website: glasshausfloristonline.com 
Amazing Graze Flowers in Melbourne offers a broad range of options you're looking for. They are experts in providing high-quality flowers at reasonable pricing to their customers regarding flower purchasing. Because of a consistent stream of flowers brought fresh by local merchants, their flowers are a beautiful blend of beauty and longevity.
Additionally, Amazing Graze Flowers offers gift boxes and custom collections for those looking to give something special. Having a selection of bouquets is a plus for flowers arrangements and that's precisely what Amazing Graze offers. It's not just about the fresh flowers, however! You may get live indoor plants from them for yourself or a special someone. 
T: (03) 9374 2929
Website: amazinggrazeflowers.com.au
Bush in Carlton North florist is devoted to selling native flowers from all across Australia. Bush collaborates with individual flower producers to get small quantities of unusual and unique flowers for its customers. It also takes ecology seriously, using stringent reuse and recycle policy and avoiding the usage of floral foam whenever possible. Furthermore, the emphasis on Australian indigenous contributes to the conservation of biodiversity on farms throughout the nation.
T: +61 417 039 109
Website: Bushflowers.com.au 
It's hard to go wrong with The Petal Project if you like stalking flower designers on social media. Wedding décor and flower arrangements are their specialities. Utilise their Instagram feed as a resource and you'll be astounded by the themes of hues and textures they've used to create a dream wedding. If you've already gotten married, you'll experience the joy of that particular day once again. The Petal Project is your go-to floral designer if you're organising a wedding!
Whether you want a beach wedding, a ceremony in a mansion or an outdoor dinner, The Petal Project's vibrant array of flowers and greenery can create a theme unlike any other. Contact us now to get started. Visit their website, or get in contact with them through their Instagram account.
Website: thepetalproject.com.au
Alchemy Orange, a flower shop in Yorta Yorta owned by artist Shahn Stewart, is known for its vibrant and unusual flower arrangements. Using unorthodox materials to construct the organic architecture that characterises her work, Shahn seeks to challenge the traditions of floral art as it is currently practised. Alchemy Orange creates one-of-a-kind pieces, so you can be confident that your purchase will be unique. The Brunswick East firm also expresses solidarity with BIPOC communities by donating a percentage of its income to organisations combating systematic racism and discrimination in the workplace. 
T: +61 435 233 573
Website: https://alchemyorange.com.au
Collingwood's Xxflos wonderfully represents Melbourne's inner suburbs with its Instagram-worthy arrangements and astrology-inspired titles. Xxflos has something for everyone, from the 'Pisces Dream Girl' to the darker 'Virgo Vixen,' which will satisfy all of your aesthetic and horoscope-related desires. Weddings, stage designs, and product photography are where Xxflos' artistic and creative talents may be used. 
Kayla Moon, the shop's director, also serves as a platform for other Naarm-based female artists, carrying handcrafted things from sweatshirts to homewares. Please note that standard delivery is Friday ($15); however, Monday to Thursday bespoke delivery is available for an additional $30.
Website: https://www.xxflos.com/
The farm-to-vase flower delivery service Floraly is an excellent choice if you want to send flowers to lovers, friends, or family members who reside across state lines. Because flowers are only cut and selected after an order has been placed, there is less waste (which is a significant issue in the business). The flowers are shipped in a beautiful rigid envelope to keep the buds fresh and secure while in transit.
Website: floraly.com.au
Even if you've never been to Hattie Molloy's Fitzroy shop, the name of the florist will conjure up thoughts of it. Sculptural and outlandish arrangements are only the beginning for Molloy's Instagram fan base, looking to her for home décor and fashion ideas. 
Vogue, GQ, Vice, and The Design Files have featured floral displays by florist Hattie Molloy. Hattie is a firm believer in the value of floristry and says she gets her inspiration from the strange. Incorporating fruit and other natural components
Telephone:  +61 419 319 825
Website: https://hattiemolloy.com.au
Lenni floral design is a brand-new Melbourne-based florist with a minimalist aesthetic. As unsophisticated, sluggish, and a tree-hugger, Lenni didn't help matters by describing himself as any of these. 'A little Lenni' and 'A lot of Lenni' (not yet launched) are the two sizes of its bunches, which are supplied once a week. Lenni creates seasonal bouquets by following the seasons and avoiding using any plastic in its designs. One of the most beautiful things is accomplishing what it aims to achieve.
Everbloome's bouquets are as long-lasting as their name implies. Glycerine, water and stabilisers and dyes are used to cure and preserve these delicate pastel-hued flowers, subsequently dried. Ecologically and economically sound, this arrangement will last for months while maintaining its soft appearance.
Website: everbloome.com.au.
Sour Sunflower is a Melbourne-based florist that specialises in creating eye-catching floral displays. Sour Sunflower's art pays attention to the beauty of nature and its seasons by focusing on the natural colour and texture of flowers. Like many others, Sour Sunflower uses vibrant colours without losing sight of the blooms' intrinsic beauty and subtlety. Sour Sunflower, a Richmond-based florist, provides flower delivery for every event. Orders placed before 10 p.m. EST on weekdays will be delivered the next day.
T:  +61 423 442 116
Website: https://www.soursunflower.com.au 
Flower delivery service Flox Botanical provides you with seasonal, hand-packed flowers and assembly instructions so you may create your bouquet at home (or give it as a gift to someone with a creative streak). The standard format allows you to select from locals or the florist's option, but it's doing a dozen roses with a vase or dazzling rose for Valentine's Day.
Website: floxbotanical.com.au