10 Great Restaurants In Melbourne
Welcome! Here we will give you 10 of Melbourne's best restaurants in 2020. This is a handpicked 'best of' Melbourne's food scene. These are the best places to eat in this city right now: the freshest, most inventive and memorable venues, ranked by our expert local editors.
Unless you have the metabolism of a nine-year-old and the finances of a Kardashian, you never stand a chance against Melbourne's ferocious dining machine. The openings just don't stop, and nobody has time to keep on top of what's what. Except us, that is.
Time Out's local experts scour the city every day for great eats, great value and insider info (like these off-menu items). We value fun, flavour, creativity – and value at every price point. So behold, our eat-and-destroy list – a guide to Melbourne's best restaurants. This list was initially published in January and since then, the hospitality industry has gone through extreme changes. As the industry transitions slowly towards regular operations, we encourage you to continue supporting your favourite venues in a safe and thoughtful way. This also means accepting any changes to the dining experience with generosity and understanding.
Kazuki's
Daylesford fine diner Kazuki's has made a successful city-change to Lygon Street
Dateline: Lygon Street. Toto's Pizza House is just to the south; Universal Café just to the north. We're in the Italian heartland where spruikers induce passers-by into their red sauce fiefdoms. And into this kingdom of carbs and cheese comes Kazuki's. Yes, the Japanese-ish, French-ish modern restaurant from Daylesford has swum against the tide of real estate refugees moving to central Victoria and upped stumps to the city.
So what would induce two successful restaurateurs such as Kazuki and Saori Tsuya to take reopen in the big smoke after seven years in the country? (Incidentally, there's still reason to seek them out at the Daylesford address, now a more casual Japanese diner called Sakana). Luckily our task at hand is not to enter the fevered minds of hospo folk but to judge their actions. And the augurs for Kazuki's – and indeed for Lygon Street itself – are good.
It's an evolution of the Daylesford mothership in every regard. A startlingly zen-like fit-out courtesy of Design Office has banished every layer of surplus detail. The grey-blue walls are boldly bare. The soft yellow-gold carpet is blissfully sound-quashing. Two supersized paper lanterns, one of the few decorative flourishes allowed, adroitly carry the Japanesque theme, as does the parade of wabi-sabi (perfectly imperfect) ceramics.
The aesthetics are just as keenly realised on those plates. Kazuki-san remains executive chef but has stepped onto the floor, mostly leaving kitchen duties to head chef Anthony Hammel, whose mentee status to Mark Best can be seen in the precise approach to the food. A make everything count ethos means even a two-leaf chicory garnish to a nicely gamey slice of aged duck breast with shiitakes, radicchio and black garlic is there for its bitterness and not just its pretty red-stemmed green flourish.
There are several ways to tackle Kazuki's, starting at the a la carte option of two courses for $75 and heading northwards to the chef's menu of seven courses for $150. Our advice: go one of the tasting menus, if only to commandeer the four snacks as the first course. Your quartet might comprise meaty little Goolwa pipis on the shell, a mouthful of ocean heft with a ginger and soy backing track. A fat profiterole filled with the holy union of chicken liver parfait and thick Davidson plum and umeshu jam gets extra sweet/sour edge from the plum dust sprinkled like icing sugar over the top. Think of your favourite French starter running headlong into a donut from the Queen Vic market and you're halfway there. A thin nori crisp is topped with a creamy line of taramasalata and salmon roe soaked in sake for extra alcohol-popping roundness. The only duff note in a winning snack salvo is the underplayed salt in the house furikake that covers bouncy little duck hearts grilled on the hibachi.
Even salmon – yes, boring old salmon – justifies its place at this table thanks to the velvety swatches of lightly kombu-cured NZ king ora getting its semi-salad on with pomelo, radish and cucumber. The skin is fried into crisps, a handy vehicle for ferrying everything from plate to mouth. There's a bit going on – whispers of ginger oil, buttermilk dressing, lime zest – without really going from exceptionally pleasant to transcendent. But that duck? Killer, thanks to the bold gaminess from being hung for seven days in Kazuki's coolroom meeting its bitter match in radicchio puree and black garlic powder. As for a Skull Island tiger prawn, the shellfish supermodel of the Northern Territory is grilled on the hibachi with a shio koji glaze for subtle umami factor then doused in sake beurre blanc dotted with salty flecks of avruga.
Go the booze matching, if only to cut down on oceans of choice across 19 extravagant pages with their heart in Victoria and hands wandering across the globe. A yuzu sake served with dessert – a yuzu curd/ANZAC biscuit/mango/yoghurt ice-cream reconstructed number – is remarkably like limoncello. That isn't enough to prevent a little culture shock when you step from this rarified little island of zen out to the pastoral Lygon scenes of people sitting under plastic awnings eating pizza off metal trays.
Oakridge
Winery dining is a bit of a 'thing' right now. You only have to look at all the young folk colonising tables at Pt Leo Estate and Tuck's Ridge and Oakridge to realise there's something in the water.
And the signs are that winery restaurants are following their demographic cues. Stuffy winery fine dining (you know, with the linen and Escoffier-style sauces) is going the way of the dinosaurs, replaced by food that gently interrogates the wine, food and terroir nexus.
Which brings us to Oakridge in the Yarra Valley. A typical architectural monument to mammon surrounded by sloping hills of vines and an impressive kitchen garden, it's the home of some spectacular wines (hello, 864 Funder chardonnay) and a buzzing cellar door. But make sure you step inside to the broad-boned dining room, where floor-to-ceiling windows afford David Attenborough-worthy views of galahs flitting past a magpie as it scoffs a worm lunch on the lawn. It's no less locavore inside the kitchen thanks to the combined, non-hierarchical cheffing talents of Matt Stone and Jo Barrett, who have spent the past four years honing their location-sensitive craft into something approaching peak deliciousness.
Take the sourdough, made with biodynamic wheat Barrett mills each day. Her unwavering commitment to superior carbs is repaid in a caramel-crusted loaf served with the gentle tang of buttermilk curds from a small herd of Jersey cows who live nearby. It's a not-so-humble start to a meal that covers plenty of bases (Euro, Asian, mod-Oz and all bases in between) but always keeps its feet on Valley ground.
Seize your chance to eat our national emblems. Gently peppery swatches of kangaroo salami need just a drizzle of fruity local olive oil to reach perfect appetiser status. Velvety cured emu tastes like gamey beef and gets sparked up with the citrus pop of the green ants hiding in a salsa verde. Going by this, predictions that insects going mainstream is not such a terrible prospect, especially when you add cultured cream and the umami hit of cured egg yolk into the equation.
More baking excellence materialises in the form of the snail-like whorls of a caraway croissant, the flaky handmaiden to smoked trout served with a kind of haute hedgerow salad and cultured cream. Smoked quail and lap cheong smashed into a farce and cooked inside the bird's golden skin takes a gutsy Canto line, bedded alongside silken tofu and tiny yet punchy local shiitakes in an XO the kitchen makes with local trout trimmings instead of prawn heads in deference to Oakridge's distance from the ocean. Finish with a Christmas pudding-y allspice ice-cream that will warm you all the way to the cockles – or gooey brie made in-house (thanks again to those Jersey cows) and old bread that Barrett pulps into a porridge and fries into giant papadum-sized crackers. It's a worthy afterlife for that best-in-show bread, and a gentle, zeitgeist-worthy interrogation not only of winery dining but of the way all restaurants should be looking to minimise waste while maximising taste. Young and old, we can all agree on that.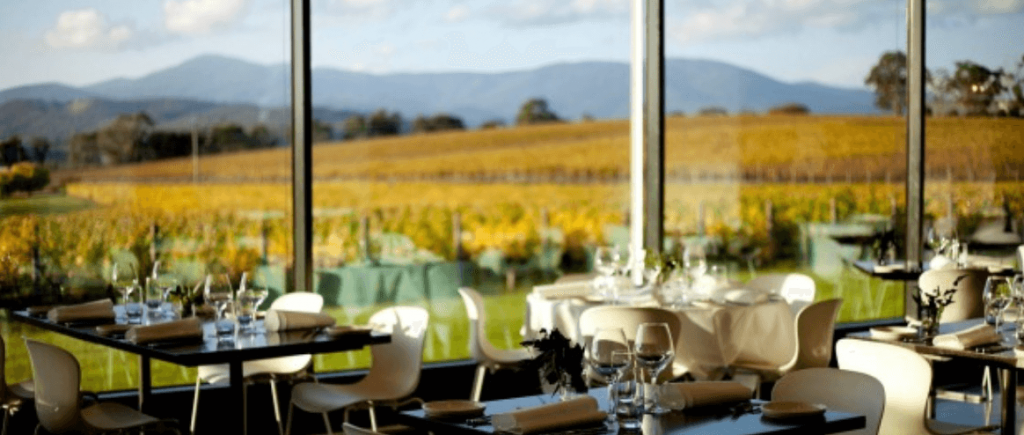 Brae
It takes a full day to dine at Brae. A meal at Victoria's most highly decorated fine dining institution fits a micro holiday into the hours needed to get out to the gently sloping paddocks of Birregurra (an easy two-hour drive from Melbourne), dine in rural splendour at an appropriately relaxed pace at Dan Hunter's famous farmhouse restaurant, and return home. You could make it a genuine mini-break should your budget stretch to the additional $625 for a night in one of the six guest suites on site (breakfast included), but it's hard to think of a more pleasant day trip than one centred around the country's preeminent dining experience.
You will be enveloped in a style of hospitality so convivial and assured that five hours will fly by while you exist in a state of suspended bliss. Life is complicated, but lunch at Brae is perfect in a way virtual reality can only dream of. Your seats are comfortable, the wood fire is crackling, and your table sits in its own orbit so that conversation is had, not overheard.
It's easy to forget that the sea is only a 45 minute drive away from these fertile fields, but gentle reminders arrive in the form of a crisp pastry shell filled with tender rock lobster capped with sea lettuce and sweetened with corn. Or a chargrilled prawn head that you wrap up in a fresh slice of kohlrabi and eat like a taco. It turns out that is just the opener for an even more curious dish hidden in the bowl beneath, a broth of chia spiked with sharp pops of dessert lime and scampi roe that comes in a shade of blue rarely seen outside of cruise ship cocktails and killer pythons.
More coastal interlopers into this pastoral setting arrive in the form of the iced oyster. A riparian diorama has a single oyster shell set amongst rocks and seaweed, but this is no freshly shucked bivalve. The meat is dehydrated and ground into a powder; the brine is made into a creamy, sweet ice cream; and powdered sherry vinegar and sea lettuce from the grassy cap on this thorough reimagining of how refreshing an oyster can be.
Your meal here is an epic journey with easy stretches, hairpin turns and sharp inclines. For every elaborate piece of creative wizardry there is an answering salve of traditions respected, like a perfect fillet of rock flathead at sea in a creamy, buttery sauce with butter poached turnips and Warrigal greens. And then the tide turns and you are served a king hit of nostalgia with Dutch cream potato cakes, scalding hot from the fryer so as to melt the cultured cream you spread on top and cap with trout roe from the Yarra Valley.
It's nothing so aggressive as a whirlwind, and even the most challenging dishes plant their flag firmly in delicious territory – surprisingly you'll find some of the most divisive items on the non-alcoholic pairing, where they play with sweet and savoury, smashing together ferments, flavours and infusions that often touch the divine (a pink-hued sipper of rosella, spiced pear and coconut), but also bring you crashing back to earthiness with dashi-spiked lapsang souchong and bottlebrush.
One might be at a loss were it not for the steady guidance of the staff here, who clearly walk the walk of this produce-loving establishment. There's not a curveball question about technique or origin that they aren't poised to answer on the spot, but if you don't actually care about how they achieved the bold, brash flavours and body in a locally produced savagnin they won't regale you with the story of how it is kept in a 3,000L barrel, each harvest added to the mix since 2008 to create complex layers and savoury oxidation. We cared; we asked.
Anchovy
Like the rest of us, Thi Le wasn't the most promising cook when she first started out. Her childhood excursions into the world of Kan Tong chicken have been consigned to history, but maybe even then the signs were there. One of her most fondly remembered dishes is steak tartare, thanks to her refugee mother's waste-not, want-not philosophy in using the meat left over from making pho.
And unlike all but 0.01 percent of us, Le became a mighty fine cook. She learned in the kitchens of the greats, including Andrew McConnell, Christine Manfield and Dave Verheul, and shades of all three inform a menu at her Richmond restaurant, owned with partner Jia-Yen Lee. But it's her own special sauce that makes it realise the giddy potential of modern Asian-Australian food in one exuberant, we'll-do-it-our-way package.
Fusion? No way, Jose. Try Le's swooningly aromatic Vietnamese-style blood pudding and you wouldn't dare breathe such heresy. Le and Lee really sum it up best on their website, in their typical no-nonsense way: Modern Asian. Modern Australian. A little in between.
By combining South East Asian traditions with classical technique and adding a frisson of untranslatable brilliance, Le's food says no to boring. Sure, she can do simple – a Bundarra pigs' head pastry with relish looks unassuming, but you'll have to resist the urge to order four and call it a meal. Then she'll hit you with pickled mussels dressed in the funky-fresh crunch of a sambal and fresh aromats that hold your senses to ransom. Whole flounder goes austere on the presentation – this bad boy is dressed only in Manchurian butter and artichokes – but the flavour buzzes around 11. The egg noodles with a rubble of pork in red curry paste is a challenge to the Bolognese hegemony. And her durian parfait tempered with white chocolate is quite simply an Insta-classic. What we're saying is, Le makes food that makes you shut up and eat. And in a town like Melbourne, that's one hell of an achievement.
Di Stasio Citta
To call Di Stasio Città one of the year's most anticipated openings is like calling the tram stop at the corner of Flinders and Elizabeth somewhat sketchy. Having finally switched on the red light in its pod-like entrance portal a few weeks ago, it feels like half of Melbourne has been getting misty-eyed over the 30-plus-year legacy of St Kilda's Cafe Di Stasio and the even longer legacy of Rinaldo Di Stasio, the city's one-man answer to the Medici family.
We're among them. Melbourne would be the lesser without the occasionally controversial Café Di Stasio in St Kilda, a place of captivating dark mystery where the DNA of excess seems to have seeped into the very floors and walls.
Di Stasio Città (literally, city) has yet to bed in its tales of ribald mischief. They will come. Città sees Ronnie Di Stasio return to the neighbourhood where he pioneered Rosati in the heady days shortly before the fringe benefits tax and the stock market crash cruelled the excesses of the 1980s. And the augurs are good. It's a place of arrestingly clean-lined brutalism – concrete walls and pillars, a remarkable terrazzo floor, video installations by artists Reko Rennie and Shaun Gladwell playing on loop with the same mesmeric qualities as the TV in the corner of the RSL. White-jacketed bartenders shake things behind a slab of white marble. Red leather chairs make like a mid-century Thornbury espresso bar, a younger Di Stasio's stomping ground. It's a gallery and salon, as well as a bar and restaurant where the undiscriminating menu runs through from 11.30am until late o'clock.
You could get decision paralysis faced with the huge single-page menu. Sage leaves and anchovies wrapped in a lacy batter with a squeeze of lemon are the perfect aperitivo hour snack. A platter of cheesy, salty pastries, some with shades of prosciutto, others like a spinach-driven finger of cucina povera, might seem to offer salvation, but hold your carb fire for the pasta. Pasta is to Di Stasio as the Sistine Chapel is to the Vatican. To date, the linguini Capri (ebulliently listed with pawns, parsley, lemon and sunshine) is enjoying poll position on Instagram but capellini – angel hair by another name – with loads of garlic and briny-sweet chunks of crab meat in its white wine-driven sauce, is nipping at its heels.
A quorum of the St Kilda menu has made the trip to the city. The pasta maltagliati, ragged flags of breadcrumb pasta with calamari and radicchio, is here. So is the pigeon pie from Bar Di Stasio, a puff of pastry filled with what can only be described as gamey bird jam.
The two word take-home about Città: delicious and expensive. Two pieces of golden-skinned duck could possibly be the best pieces of duck you've eaten in your life. That there $48 is something for the individual diner to percolate.
Three packs of suckling pig, each capped with a curve of crackle the width of a credit card, arrive with a small roasted apple wearing a fried sage leaf like a jaunty hat and a dish of sticky pork jus. No more, no less…. $58. All but the hardest artery-hearted will need a side, such as a plate of wilted, oil-dressed radicchio leaves laid out like interleaved tiles.
Greasy Zoe's
We're at the end of the line. Literally – the end of the Hurstbridge Line, a 50-minute train-ride out of the CBD, where Melbourne's suburban identity gets the wobbles as it dissolves into the countryside. Take a left from the station, walk for five minutes, then take a right. One hundred metres onwards you'll find one of the winningest little restaurants to warm the cockles and the sub-cockle region.
Greasy Zoe's is the name discreetly etched on the door, but this is no American-style diner with bottomless cups of filter coffee. The reality is a cool rustic bolthole big enough for an open kitchen, vinyl spinning turntable and just 15 seats. It feels less like a conventional restaurant, more like you've accidentally wandered into the bijou farmhouse of someone with really good taste in music.
Zoe Birch (ex-Courthouse Hotel and Healesville Hotel) is working the wood grill in the open kitchen. Lachlan Gardner works the floor. The cunning pair have confected the answer to the rent/staff/squillion dollar fitout crisis with their self-sufficient, two-person operation that rolls in sync with its locality.
We're in the heart of Nillumbik Shire, which stretches out to Kinglake and Whittlesea and buts up against the Yarra Valley. Birch and Gardner stick to the locavore brief by championing small local producers, from artisans to friends with an excess of backyard pumpkins and sticking as much as they can to their green wedge municipal 'hood.
It's a set-menu scenario – $65 for six courses, $85 for eight – and for some of the best, brightest cooking to be found across the city it's great value. This is a place where crackle-topped pumpkin puffs in choux pastry rub shoulders with mushroom tartlets (made with their own butter), the ashed goats' cheese and mushroom duxelle conspiring with last season's dehydrated pine mushrooms to achieve a haunting forest floor excellence. More best-in-show snackage: purple congo potato crisps piped with garlicky skordalia, and Birch's own charcuterie, including duck salami packing huge flavour.
Mackerel hangs above the grill, slowly curing to be grated over rainbow trout from Eildon, the dashi effect grounding the sweet carrot puree and green carrot-top sauce. Lamb slow-cooked in persimmon juice so the outside is wickedly dark and glistening is coyly hidden in cherry leaves of cabbage, kale and kohlrabi, a wooden spoon of the house-made mustard the final grace note.
The cheese course is a rhubarb-filled homemade croissant covered in a blizzard of aged buffalo cheese. The dessert course teams stewed tamarillo with milk sorbet, burnt butter cake crumble and a housemade cream cheese that reads like cheesecake. And it's a hallelujah moment that in place of any po-faced petit fours arrives perfect slivers of tangelo and kiwi fruit.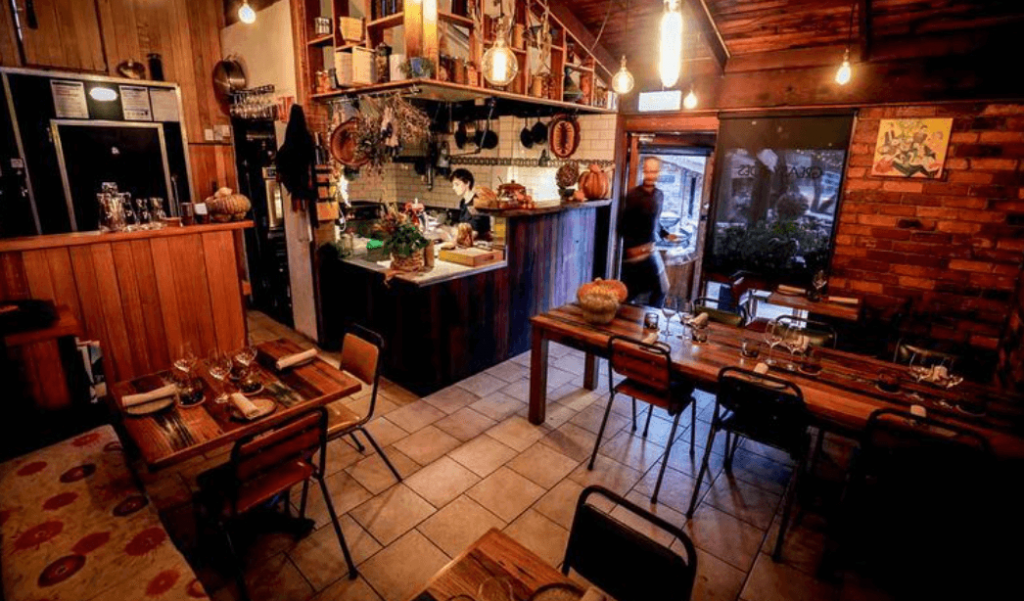 Minamishima
And it's right here, hiding shyly on a quiet, mostly residential street in Richmond. Talk about hiding a light under a bushel. Not even so much as a press release when former Kenzan sushi master Koichi Minamishima opened in October.
It's been a two-year labour of love, says Minamishima's veteran sommelier Randolph Cheung (Azalea, Flower Drum). They wanted to get it right. And how. It seems strange to talk about fireworks in a restaurant so elegant, mannered and meticulous. Minamishima is a world away from the sound and fury of so many modern restaurants. The soundtrack is a jaunty if unobtrusive jazz piano. The service is impeccable. Cheung couldn't be any smoother if he was on rollerskates. His sake matches are inspired.
Such things do not come cheap. It's $150 for the 15-course omakase selection, which puts you in the hands of Minamishima and his offsider Hajime Horiguchi, formerly of Noosa-notable Wasabi. No choice, just whatever they've selected from the market. You get what you get, but you definitely won't get upset. It starts with a palate-cleanser of smoked and pickled vegetables and then romps through 14 pieces of nigiri sushi: all seafood, all exquisite.
It's said good sushi is all about the rice (and the rice at Minamishima is indeed perfect in temperature and form) but it's the proteins that will leave you gasping. You'll try two types of toro (tuna belly): one like raw prime beef, the next seared and almost like foie gras in its richness. Then there's the buttery flounder fin – all slippery, textural bite – and some incredible, delicately scored calamari, which brings to mind clouds that have been turned into noodles. There's scampi with a little burst of finger lime, and funny, frilled Japanese cockle. There's the smoky umami blast of lightly torched sea perch with uni (sea urchin) and spring onion. The penultimate course is a finely minced puck of calamari in a fragrant fish broth, which soothes the way towards dessert.
So Japanese desserts aren't your bag? The yuzu granita on a sake jelly moulded to the bowl so it comes away with a satisfying squelch might just change your mind. It's a bracing, citrus-sweet and sour thing that gives the meal a worthy finale.
Flower Drum
A decade is a long time in restaurant years – especially in Melbourne, land of the fickle diner. So what is it about this high-end Cantonese restaurant that's kept it kicking strong through 38 years, two recessions, the digital age and a plague of screechers decreeing the death of fine dining?
There's the unwavering attention to detail to start: service at Flower Drum is a carefully choreographed dance, which some of its waiters have been perfecting for 20-plus years. There's not a second you're not in someone's scope from the moment you step into the Market Lane foyer. Hands are shaken. Regulars are greeted by name – they have their own tables and order dishes long gone from the menu. But it's allowed. So long as executive chef Anthony Lui has the ingredients, he'll still pull a lemon chicken out of the hat if he's asked.
These days it's Anthony's son Jason marshalling the floor with cool, calm efficiency, keeping track of faces and commanding the six to eight waiters who serve each table. With Jason has come a new era for Flower Drum. There's a long-held myth that to do it right you had to come prepared with a list of secret, retired off-menu dishes. But this is Cantonese, and some Sichuan, rooted in tradition but with all the vitality of chefs who move and flex with the seasons. It's a mistake to write the current menu off.
And that's something Jason has helped to fix. He's ushered the restaurant into the digital age (they even have a Facebook page) and revitalised the old lengthy menu, to encourage diners to focus on the here and now.
It's food that deserves serious focus. Xiao long bao are perfect pouches of fresh picked mud crab suspended in a rich seafood liquor. A soup of wallaby tail and tart lingonberries is a rich, peppery broth, cooked long and slow in a clay pot submerged in boiling water to gently draw the flavour. There's the barramundi rendered into delicate fishy noodles and stir fried with tangerine zest, shallots and sweet dried pork sausage.
Sunda
It's the roti with Vegemite curry, okay? Sunda has made the year's most spectacular play for the hearts and minds of Melbourne with a crazy-brave combination of wickedly buttery deconstructed roti and a deeply savoury curry sauce with a Vegemite-umami backbone. Add the fact that it's an off-menu secret with only 25 serves available a night for those who know the password (tip: try do you have any roti with Vegemite curry left?) and what you have is a bona fide catnip to anyone with a stomach to fill.
Don't make the mistake of thinking Sunda is a one-trick pony. The restaurant stars the talents of chef Khanh Nguyen, a (gasp!) Sydney import, who's taken the pan-Asian fun of Malaysian, Indonesian and Vietnamese dishes, picked them apart and made them new again with the help of native Australian ingredients. It sounds slightly wrong written down on paper until you hit something like the otak otak, traditionally a grilled fish cake in banana leaf. Here it's playing like the smoothest, richest seafood parfait with a curry lilt and topped with pops of finger lime, chilli slivers and picked meat, all the better to smear on rice crackers. Or the crisp, golden-domed perfection of the rendang bun, which is not only a reminder that pretty much every culture has its own version of a meat pie, but that Malaysian beef rendang does very well smooshed into a fluffy carb den with a bold swipe of fermented chilli sambal and a refreshing hit of pickled radish on the side.
Nguyen puts Fremantle octopus through a contemporary centrifuge, the charry cephalopod duking it out with the thumping rich ripeness of bush tomato and a lemongrass sambal. And don't miss his egg noodles in a drenching of XO underscored by pepperberry and mined with a cholesterol-spiking amount of salty chicken crackling.
A great restaurant cannot rest on its menu alone. Sunda has emerged fully-formed with one of the more interesting fit-outs of 2018 (the best descriptor is construction site-chic; the combination of red brick walls and scaffolding giving the impression of dining in a gallery space) and the switched-on team of staff are armed and dangerous with a wine list that swings natural without being obnoxious about it. Sunda has burst out the blocks demanding our love, and receiving it. Pass the funky rosé, and toast to its future.
Attica
Last time Time Out checked in on Attica it was 2012 and things were somewhat different. Ben Shewry and his wife Natalia weren't yet sole owners, for one. The Iva Foschia makeover to celebrate their exclusive possession of the keys hadn't yet blackened the timber walls and conjured a dining room worthy of Shewry's sublime cooking. Perhaps most pertinently – at least for the Shewry family accountant and the busy individual who takes the bookings – it hadn't climbed to numero uno in Australia on the World's Best Restaurants list.
Vive la difference. These days Shewry's captain of his own ship. The restaurant has undergone a sexy yet understated makeover that finally banished the ghosts of bank buildings past. Rippon Lea Estate kindly provides space for sprawling kitchen gardens exclusively for the suburb's favourite son.
Like Neil Finn, Shewry is one of those Kiwis we like to claim as our own (nb: they can keep Russell Crowe) but you can tell by his cooking that he's got the maverick eye of the outsider. Attica 2.0 gives a cheeky spin on Aussie-isms that a homegrown chef might overlook. There's a play on smashed avo on toast, a canapé built for the Millennial debate, value-added with finger lime and juvenile Ripponlea herbs. There's a mini saltbush lamb pie in a Vegemite-addled crust making a delicious gentle dig. Even the bread goes native: sour damper, made with fermented native grains and served with butter and macadamia cream.
You'd imagine being a World's Best Restaurants darling could be the cooking world's equivalent of an albatross, leaving chefs of a lesser character hell-bent on holding onto that status with their cold, dead fingers. Instead of being food from the crypt, however, Attica is nothing less than a breath of fresh air.
You'll find yourself unwrapping a paperbark parcel to find pearl meat lavished with lemon myrtle butter – use of fingers is highly recommended. You'll exclaim something ridiculous like How good is this pumpkin? with the dish known as all parts of the pumpkin (anyone prejudiced against orange food – prepare to be amazed). You'll find a three-part tribute in tart form to the history of Ripponlea (including a Jewish matzo ball-inspired version with smoked chicken and dill set in aspic), and kangaroo in its raw, diced glory with a molar-worthy melange of wattleseed.